The journal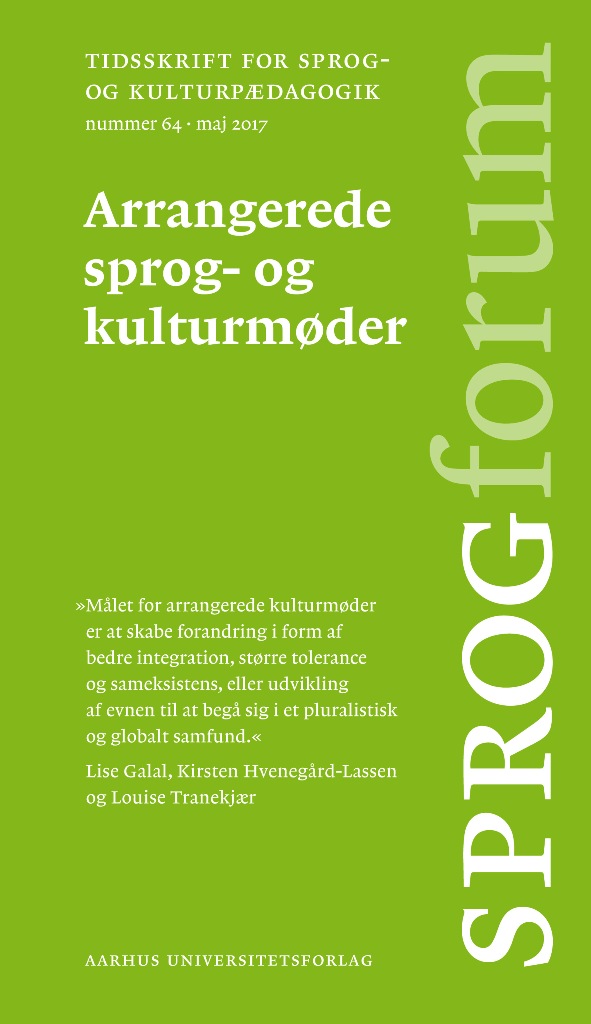 Sprogforum
Tidsskriftet Sprogforum  er ramme om en pædagogisk og teoretisk debat om fremmed- og andetsprogsundervisning. Her udveksler undervisere erfaringer og ideer på tværs af sprog, institutioner og traditioner - og forskere formidler deres undersøgelser og resultater for at bidrage til forøget viden og fornyelse.
Sprogforum  udkommer to gange om året og er fagfællebedømt. Artiklerne er lettilgængelige og belyser fra forskellige vinkler et aktuelt tema.
Sprogforum kan desuden købes i løssalg på Danmarks Pædagogiske Bibliotek og Aarhus Universitetsforlag.
Ved køb af enkeltnumre på forlagets hjemmeside får du en gratis e-bog med. E-bogen kan også købes separat.  
Hidtil er udkommet:
64       Arrangerede sprog- og kulturmøder
62       Sprog, kultur og viden (Language, Culture and Knowledge - abstracts in English)
61       Læringsmål (Learning Objectives - abstracts in English)
60       Kritisk sprog- og kulturpædagogik (Critical Language and Culture Pedagogy - abstracts in English)
59       Læremidler uden grænser (Learning Materials Without Borders - abstracts in English)
58       Begyndersprog (Beginner Language - abstracts in English)
57       Subjektivitet og flersprogethed (Subjectivity and Multilingualism - abstracts in English)
56       Indholdsbaseret sprogundervisning
54       It NU
52       Test!
51       Første-, andet- og tredjesprog  
49/50  Jubilæum - tidsskriftet gennem 50 numre
48       Curriculum
47       Sproghistorie og sprogtypologi
45       Sprogfag i Danmark år 2008-2009
43       Førstesproget som ressource
41       Sprog, kultur og medborgerskab
40       Børnelitteratur i sprogundervisningen
39       Åbne sider
Sprogforum nr. 1-35 kan bestilles på pluk@dpu.dk
Artikler fra nr. 1-35 kan ses på http://library.au.dk/betjeningssteder/campus-emdrup-dpb/infodokvelkommen/infodokogsprogforum/
35       Undervisningsmaterialer- og indhold
34       Sproglæreren mellem refleksion og fornyet praksis
33       H.C. Andersen
32       Julen 2004 - Vinduer mod verden
31       Den fælles europæiske referenceramme
30       Sproglig opmærksomhed
29       Nordens sprog i Norden
28       Æstetik og it
27       Kompetencer i gymnasiet
26       Udtale
25       Læringsrum
24       Sprog for begyndere
23       Evaluering
22       Lytteforståelse (udsolgt)
21       Litteratur og film
20       Task (udsolgt)
19       Det mangesprogede Danmark
18       Interkulturel kompetence (udsolgt)
17       Brobygning i sprogfagene
16       Sprog på skrift (udsolgt)
15       Læring og læreoplevelser (udsolgt)
14       Mundtlighed (udsolgt)
13       Internationalisering
12       Sprog og fag
11       Evaluering af sprogfærdighed (udsolgt)
10       Sprogtilegnelse (udsolgt)
9         Dansk som andetsprog (udsolgt)
8         Projektarbejde (få eksemplarer)
7         Fra grammatik- til systemtilegnelse (udsolgt)
6         Den professionelle sproglærer (udsolgt)
5         Mellem bog og internet (udsolgt)
4         Kommunikativ kompetence (udsolgt)
3         Et ord er et ord (udsolgt)
2         Didaktiske tilløb (udsolgt)
1         Kulturforståelse (udsolgt)
Sprogforum redigeres af en fast redaktionsgruppe:
Karen Lund (ansv.), Bergthóra Kristjánsdóttir, Karen Sonne Jakobsen, Karen Risager, Louise Tranekjær og Lone Svarstad
- med bidrag fra: : Sprogpædagogisk Informationscenter på AU Library, Campus Emdrup (DPB): http://library.au.dk/betjeningssteder/campus-emdrup-dpb/infodokvelkommen/
- og med baggrund i en bred redaktionel storgruppe:
Gülsüm Akbas, Bettina Brandt-Nilsson, Francesco Caviglia, Petra Daryai-Hansen, Birte Dahlgreen, Susana Silvia Fernandez, Karen-Margrete Frederiksen, Annegret Friedrichsen, Annette Søndergaard Gregersen, Anne Holmen, Karen Sonne Jakobsen, Mads Jakob Kirkebæk, Bergthóra Kristjánsdóttir, Karen Lund, Elina Maslo, Bente Meyer, Pia Zinn Ohrt, Michael Svendsen Pedersen, Susanne Jacobsen Pérez, Ulla Prien, Karen Risager, Lilian Rohde, Anna-Vera Meidell Sigsgaard, Lars Stenius Stæhr, Lone Svarstad, Louise Tranekjær, Peter Villads Vedel, Merete Vonsbæk og Natasja T. Kappel Pedersen
Redaktionens adresse:
Sprogforum
Institut for Uddannelse og Pædagogik (DPU)
Tuborgvej 164
Postbox 840
2400 København NV
T: 87 15 17 96