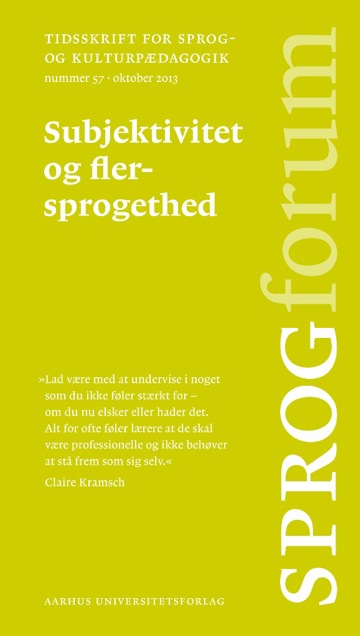 ---
Available e-book formats: PDF, EPUB
---
Paperback
Published February 2014
ISBN 978 87 7124 375 8
---
Edited by
Karen-Margrethe Frederiksen Michael Svendsen Pedersen og Karen Risager
With contributions by
Jesse-Lee Costa Dollerup Lisbeth Egerod, Karen-Margrethe Frederiksen, Christina Helleshøj, Kirsten L. Kolstrup, Claire Kramsch, Tanya Lindkvist, Elina Maslo, Helle Lykke Nielsen, Hanna Niemann, Sofie Paludan, Michael Svendsen Pedersen og Véronique Simon
---
More about the book
About the book
In this number of Sprogforum we introduce a theme that is still relatively new in a Danish and Nordic context: Subjectivity and multilingualism.
Inspired by Claire Kramsch's book The Multilingual Subject (2009), we feature a number of articles that give an account of new research and attempts at teaching that make the subjective experiences of language and learning the participants have the driving force in the classroom.
Read two articles from this number of Sprogforum in English:
Acquisition, loss, dreams: (Re)construcion of identity through language autobiographies by Véronique Simon
Subjectivity on the periphery by Michael Svendsen Pedersen
Table of contents
Kronik: Målrettet sprogundervisning til flersprogede elever
Det flersprogede subjekt
Læring, tab, drømme. Identitetsdannelse gennem sprogselvbiografier - Læs artiklen på engelsk her
At finde sin stemme på dansk
Subjektivitet i periferien - Læs artiklen på engelsk her
Kunsten at lære et sprog - Hvad sker der, når sproglæring flytter ud af klasseværelset og ind på museet?
Det ideelle selv og motivation i andetsprogslæringen
Flersprogede subjekter på danskuddannelsen - En læringshistorie
Åbne sider: Prøve i Dansk 1 mundtlig del, Delprøve 2 - En prøve med konsekvenser
Åbne sider: Sproglæreren som kurator
Godt Nyt og Andet Godt Nyt
Læs engelske abstracts fra Subjectivity and Multilingualism her.