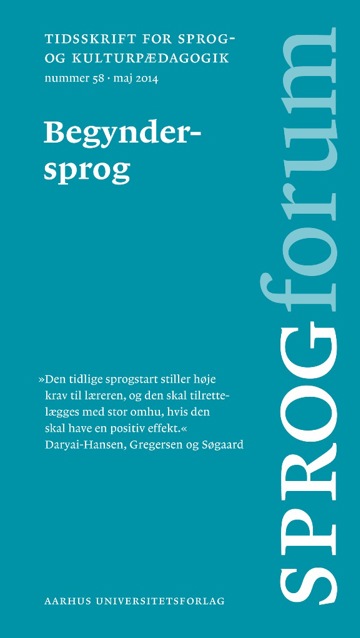 ---
Available e-book formats: PDF, EPUB
---
Paperback
Published August 2014
ISBN 978 87 7124 509 7
---
Edited by
Petra Daryai-Hansen Annette Søndergaard Gregersen, Mads Jakob Kirkebæk, Karen Lund og Peter Villads Vedel
With contributions by
Nicolai Andersen Christie Beckmann, Petra Daryai-Hansen, Xiangyun Du, Eleonora Duarte, Annette Søndergaard Gregersen, Mads Jakob Kirkebæk, Karen Lund, Susanne Dupont Lundh, Selma Mesic, Danièle Moore, Anna-Vera Meidell Sigsgaard, Lone Krogsgaard Svarstad, Karoline Søgaard, Louise Holst Tollan og Peter Villads Vedel
---
More about the book
About the book
There would seem to be an increased momentum for beginner language in Denmark - caused in particular by the new school reform, which means that Folkeskole pupils from August of this year are to start English, German and French earlier than before. Which in turn means that one will now have younger pupils and new contexts in a social, cognitive and emotional sense, resulting in new challenges to teacher education programmes and the qualifications teachers must have.
Teaching beginner language ought to command all the attention it can get, including its own number of Sprogforum. The number contains a series of articles that from various perspectives illustrate, exemplify, clarify, describe and analyse work with beginner language from the youngest pupils at the Folkeskole to students at the university.
Read two articles for this number of Sprogforum:
Eduquer au langage pour mieux apprendre les langues dès le plus jeune age by Danièle Moore
Seven myths about beginner language by Mads Jakob Kirkebæk and Karen Lund
Table of contents
Kronik: Tidlig sprogstart ─ en mulighed for styrkelse af den interkulturelle dimension?
Syv myter om begyndersprog - Læs artiklen på engelsk her
Tidligere sprogstart: begrundelser og praksisanbefalinger
Tysk fra 5. ─ Hvordan?
TESS ─ Tidlig Engelsk Sprog Start på Brøndby Strand Skole
Sproglig opmærksomhed ─ en tilgang til at styrke sproglæring fra den tidlige barndom - Læs artiklen på fransk her
Hvad skal læreren kunne?
Brug af tasks i begynderundervisning i kinesisk
Tidlig fransk og tysk
Evaluering af tidlig engelskundervisning i Danmark
Åbne sider: "Brug dine egne ord!"
Godt Nyt og Andet Godt Nyt