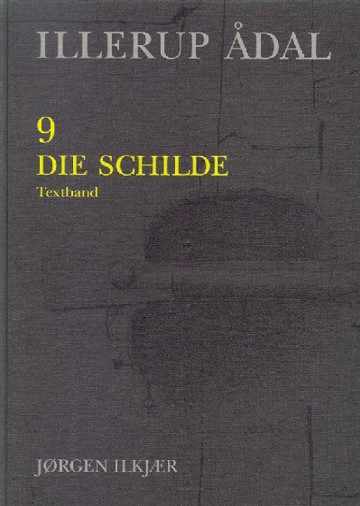 More about the book
About the book
The Illerup Ådal find is one of the most spectacular in Denmark. In this river valley large weapon finds have been made. After successfully defending their valley against an invading force, the inhabitants of the region cast the weapons into the lake as offerings. During two periods of excavations, 1950-56 and 1975-85, more than 15,000 weapons and pieces of equipment from the Roman Empire have been found.

Vols. 9 and 10 contain descriptions and an analysis of about 400 shields from the Illerup Ådal. While some of the shields are represented only through their iron, bronze or silver bosses, the greater amount of well-preserved shields from Illerup has been compared to material from other bog finds and European weapon graves. They form the basis for differentiating regional groups in Northern Europe outside the Roman Empire.

Furthermore the volume presents an anatomic analysis of the pieces of timber used for the shields. These finds give us information about the usage of the various types of wood in a given region in the Western part of Scandinavia. In addition, an analysis of the grainings of oak wood used on five shields has for the first time resulted in an absolute dating.

Der Illerup Ådal-Fund ist einer der spektakulärsten in Dänemark. In dem Flusstal wurden große Waffenfunde gemacht, die sich als Kriegsbeute herausgestellt haben. Nach erfolgreicher Verteidigung ihres Gebiets gegen Angreifer hatten Einheimische sie in einem See als Opfergaben versenkt. Bei den Funden, die in den Jahren 1950-56 und 1975-85 ausgegraben wurden, handelt es sich um mehr als 15.000 Waffen und anderes Kriegsgerät aus der Zeit des Römischen Reiches.

Bd. 9-10 umfassen Beschreibungen und Analysen von ungefähr 400 Schilden aus dem Illerup Ådal. Bei einem Teil davon sind jedoch nur die Schildbeschläge aus Eisen, Bronze oder Silber vorhanden. Die große Anzahl an gut erhaltenen Schilden wird mit anderem Material aus Moorfunden und europäischen Waffengräbern verglichen. Sie bilden die Grundlage dafür, regionale Gruppierungen in Nordeuropa außerhalb des römischen Imperium auszusondern.

Außerdem wird eine anatomische Analyse des Kernholzes der Schildbretter dargestellt. Diese Befunde geben Auskunft darüber, wie die verschiedenen Holzsorten in einem bestimmten Gebiet im westlichen Teil von Skandinavien verwendet wurden. Ferner hat eine Analyse der Maserung von Eichenholz von 5 Schilden erstmals zu einer genauen Datierung geführt.
Table of contents
Vorwort

1. Einleitung

2. Zur Charakteristik der einzelnen Fundkonzentrationen

3. Die Schildbuckel

4. Schildfesseln

5. Schildnägel

6. Aufgesetzte Spitzen

7. Schildbeschläge

8. Schildrandbeschläge

9. Schildbretter und Holzbestimmungen

10. Germanische Schilde

11. Schluss

Literatur