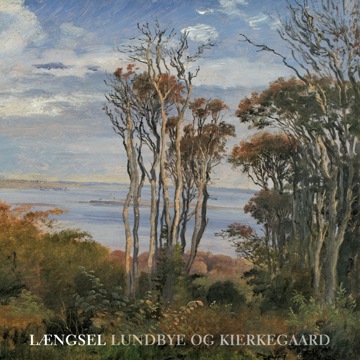 More about the book
Table of contents
Forord 
Indledning
HANS EDVARD NØRREGÅRD-NIELSEN
Grundende på den resignation
BENTE BRAMMING
Længsel hos Lundbye
ETTORE ROCCA
En ny umiddelbarhed. Søren Kierkegaard læst af Johan Thomas Lundbye
Indledning til Lundbyes tekster
JOHAN THOMAS LUNDBYE
Lille afhandling om kunst
Lille afhandling om skønhed
Dagbog, 9. december 1846 - 15. april 1848
Tre digte
Tidstavler
Katalog
Forfatteroversigt
Excerpt
Press reviews
Peter Michael Hornung, Politiken
"en smuk bog"
"I en mere varig form samler bogen den forskning og de overvejelser, der har ligget bag udstillingen, og de tolkninger, som stoffet giver anledning til hos de tre forfattere"
Henrik Wivel, Kristeligt Dagblad
"et fremragende resultat"
Bente Scavenius
"fremragende"
Preben Winther, Kunstavisen
"Bogen om Lundbyes Kierkegaard-læsninger er lynende interessant"
Ole Nørlyng, Weekendavisen
"Bogen, der følger udstillingen, er både nødvendig og glimrende."
Jytte Kjær Schou, Litteratursiden
"Indbydende bog, der på forskellig vis belyser, hvordan den danske guldaldermaler, Lundbye, blev påvirket af Kierkegaards filosofiske skrifter både som kunstner og som menneske. (...) Det er en virkelig smuk bog med fine gengivelser af malerier og tegninger, der er meget velvalgte i forhold til teksten. Med sine særlige synsvinkler indbyder den til et fornyet bekendtskab med Lundbye"
Jette Andreasen, lektørudtalelse
"En smukt illustreret bog, der med et anderledes greb indkredser en guldaldermalers optagethed af den samtidige Søren Kierkegaard."
Thor J. Mednick, Kunsthistorisk Bogliste
"An important virtue of Længsel is the effort the authors make to acknowledge some of these larger connections (for instance, the relationship of Lundbye's art and mindset to European Romanticism) and to engage a rigorous and useful analysis of one of them, in particular: his intellectual interaction with the
philosophy of Søren Kierkegaard."
"Kierkegaard-scholar Ettore Rocca presents  a magisterial and eminently readable  analysis of Kierkegaard's writings  as they relate to Lundbye and of  Lundbye's own interpretations of  the most salient passages. Rocca's  cogent distillation of these texts  and their relationship to Lundbye's  artistic program is recommended to  those who wish to learn more about  this field of æsthetic inquiry."
Errata
Ved en fejl er billedet på omslaget ikke blevet krediteret. Det drejer sig om Johan Thomas Lundbyes  maleri med titlen Kolås Skov på Vejrhøj fra 1846. Det ejes af Statens Museum for Kunst og gengives i øvrigt i Længsel. Lundbye og Kierkegaard på side 76 med korrekt kreditering. Forlaget beklager fejlen.