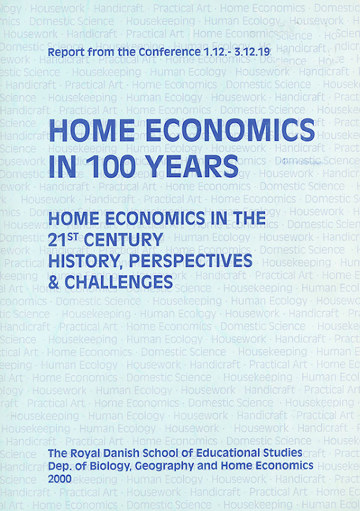 Home economics in 100 years
Home economics in the 21st century. History, perspectives & challenges
A part of the subject areas and Pedagogics
---
---
Paperback
Published 15. September 2000
ISBN 87 7701 819 2
---
Edited by
Jette Benn
With contributions by
Jette Benn, Eyvin Bjørnstad, Brynhildur Briem, Helle Brønnum Carlsen, Ingrid Cullbrand, Sigrid Dalsgaard, Vija Dislere, Margareta Grønqvist, Hans Levin Hansen, Karin Hjälmeskog, Gitte Windstrup Holst, Inger Lise Fevang Jensen, Margaret Jepson, Sari Kivilehto, Maija Kulakova, Iveta Lice, Kaie Mei, Tom Ploug Olsen, Päivi Palojoki, Annelise Terndrup Pedersen, Virginija Sidlauskiene, Katriina Sulonen, Kaija Turkki, Britt Unni Wilhelmsen and Pia Øxenberg
---
More about the book
About the book
Report from the Conference held at The Royal Danish School of Educational Studies 1.12.-3.12.1999.
The report is split into three parts. The introductory part contains the opening speeches by rector Tom Ploug Olsen and professsor Hans Levin Hansen, followed by some historical perspectives by Jette Benn, Karin Hjälmeskog and Kaija Turkki.
The next part contains short presentations of home economics teacher education in all the Nordic and Baltic countries based on short questionnaires sent to the presenters beforehand.
The final part holds examples of research from the whole region.