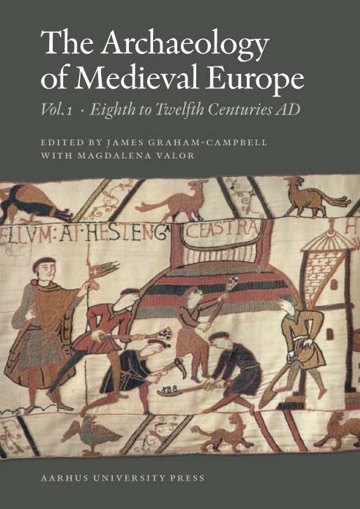 More about the book
About the book
Volume 1 and 2 PB are sold at a reduced set price.
Press reviews
Tom Condit, Archaeology Ireland
"Aarhus University Press brings us an all-embracing overview of European Archaeology of interest to mediavalists. The book goes a long way towards providing that important overview of Europe so common in contemporary politics, but also highlights the variable impacts in the different countries involved."
Oliver Creighton, University of Exeter
"The scope of the volume is ambitious and its coverage as near to comprehensive as could reasonably be expected. It is virtually guaranteed to become the standard undergraduate textbook on the subject, while scholars and researchers have much to learn from it."
James G. Schryver Eolas, The Journal of the American Society of Irish Medieval Studies
"The Editors have done an admirable job concerning the flow of ideas from chapter to chapter. A great strength of this book is that this is by no means the only way in which one could read these chapters or use them in a classroom. In fact, each chapter can stand on its own quite well, or could be grouped together in various ways depending on the thematic approach desired. This book can boast a number of strengths that will make it a welcome addition to the medieval archaeology curriculum."
Andrew Selkirk, Current Archaeology
"This book aims to be the prime university text-book on medieval archaeology. The project was first launched in 1999, but has only now reached fruition. It is written by a stellar array of distinguished European medievalists, on a university graduate level, and for those who want an account of medieval Europe covering everything from urban settlement and housing culture through to the 'display of secular power', this could be invaluable."
Roberta Gilchrist, Medieval Archaeology
"This ambitious new textbook stems from the collaboration of the European Symposium for Teachers of Medieval Archaeology (ESTMA) and a key feature is that each chapter is co-written by at least two authors with specialist knowledge of contrasting areas of Europe. It is an accessible text which presents general overviews for the undergraduate audience, with two or three complementary 'box-texts' for every chapter which explore a theme or case study in more detail.
The editors and authors of this succesful volume have indeed created an invaluable and accesible ressource for the teaching of medieval Archaeology and, in the process, they have demonstrated the richness and variety of medieval research throughout Europe in the last four decades. By engaging an international team of authors, regional and wider patterns are made more apparent in both the archaeology and also in the practice of the discipline. The ESTMA team and publisher now promise a second volume covering the 12th to 16th centuries, a sequel which is urgently needed and now eagerly anticipated."