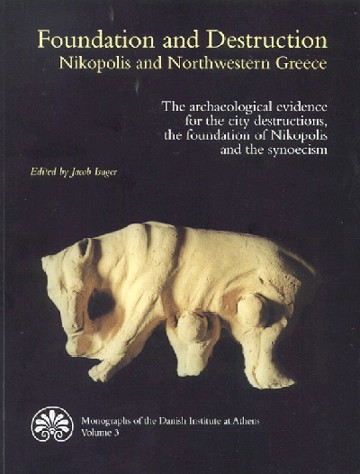 ---
---
Paperback
Published 27. April 2001
ISBN 87 7288 734 6
---
Edited by
Jacob Isager
With contributions by
Anthi Angeli, Neritan Ceka, Klaus Freitag, Peter Funke, Konstantina Gravani, Sanne Houby-Nielsen, Jacob Isager, Vivi Karatzeni, Ioulia Katsadima, Franziska Lang, Melissa G. Moore, Giorgia Pliakou, Ernst-Ludwig Schwandner, Carol A. Stein, Chryseis Tzouvara-Souli, James R. Wiseman and Konstantinos Zachos
---
More about the book
About the book
The Greek city of Nikopolis was founded by Octavian (later known as the Emperor Augustus) after his victory in the naval battle of nearby Actium in 31 BC.

The city was a result of a so-called synoecism, i.e., the inhabitants of numerous Greek cities in the region (Epirus, Acharnania and Aetolia) were forced to leave their former dwellings and establish themselves in the newly built city, which became the capital of the coastal region.

Since 1987 a joint Greek-American archaeological and geological Nikopolis project has registered, conservated and restored monuments inside and outside the city and conducted a survey of Southern Epirus aiming at understanding the changing relationship between humans and landscape.

The main issue has been the impact of the new metropolis in the region and to what extent the towns included in the synoecism were actually left uninhabited.
Table of contents
Introduction

Eremia in Epirus and the Foundation of Nicopolis. Models of Civilization in Strabo

Excavations at the Actian Tropaeum at Nikopolis. A Preliminary Report

Landscape Archaeology in the Territory of Nicopolis

In the Shadow of Nikopolis: Patterns of Settlement on the Ayios Thomas Peninsula

Roman and Late Antique Pottery of Southern Epirus - Some Results of the Nikopolis Survey Project

Riza and Agia Pelagia

Two Architectural Assemblages of the Roman Era along the Coast of Southern Epirus

Kassope, the City in whose Territory Nikopolis was Founded

Archaeological Evidence from Cassope. The Local Workshops of Mould-Made Bowls

Leukas in the Roman Period

Epirus in the Roman Period

Die Umwandlung Butrints von einem Koinonszentrum zu einer römischen Kolonie

Acheloos' Homeland. New Historical-Archaeological Research on the Ancient Polis Stratos

The Dimensions of Material Topography

Some News about Inscriptions from Northwestern Greece. Preliminary Remarks on the Recent Epigraphical Work in the Museums of Thyrion and Agrinion

The Cults of Apollo in Northwestern Greece

Sacred Landscapes of Aetolia and Achaia: Synoecism Processes and Non-Urban Sanctuaries