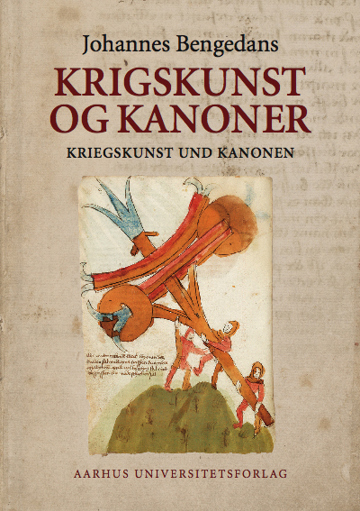 Krigskunst og kanoner/Kriegskunst und Kanonen
Johannes Bengedans' bøssemester- og krigsbog/Das Büchsenmeister- und Kriegsbuch des Johannes Bengedans
A part of the subject area History (Middle Ages)
More about the book
About the book
The Art of War and Canons is a magnificent edition of Johannes Bengedans' handbook from ca. 1450 on the techniques of war. It deals with canons and gunpowder, as well as war against castle and fortress and an attacking army. It is illustrated with splendid drawings by the author himself. He was a German craftsman/engineer who was employed by the Master of the Teutonic Knights and by King Christopher of Bavaria and Denmark. The text is translated into Danish and modern German, and language, chemistry, measurements and weights, the weapons of war and the historic connection are thoroughly explained. The book will therefore appeal to a broad public.
Press reviews
Carsten Selch Jensen, historie-nu.dk
"En gang imellem får man så en bog i hænderne, hvor det hele - indhold, indbinding, papirkvalitet, sats, billedkvalitet, mv. - går op i en højere enhed og både læsningen og selve det at sidde med bogen i hånden er en nydelse og en fornøjelse. Udgivelsen af Johannes Bengedans' Krigskunst og Kanoner er sådan en bog [...]. Det er ganske simpelt spændende læsning at kigge Johannes Bengedans over skulderen, og helt grundlæggende er der i denne udgivelse tale om en overordentlig smuk bog - eller rettere sagt to smukke bøger, da udgiverne og forlaget har valgt at lade udgivelsen af Johannes Bengedans' krigsbog bestå af to bind [...]. Disse to pragtbind med deres fantastiske flotte faksimile-udgaver, oversættelser og transskriberinger af såvel krigsbog som breve med tilhørende forklarende indledning og artikler mv. får man for den beskedne sum af kr. 498,- - og det er en ren foræring; god læselyst."
Steffen Heiberg, Politiken
"Det er et stort apparat, der skal til, når et 550 år gammelt manuskript skal aflokkes alle sine hemmeligheder. Men her er virkelig indsigt at hente, hvad enten man interesserer sig for militærvæsen, sproghistorie, teknik eller videnskabshistorie. Og så er det en pæn bog at have stående på sin reol, ikke en banal coffeetable-book, men rigtigt boghåndværk."
Christian Kaaber, BogMagasinet
"Nu er denne spændende kulturhistoriske kilde omsider udgivet i to statelige bind med alt hvad vores tid kan opvise af raffineret reproduktion. Det originale håndskrift er gengivet i farvefaksimile i fuld størrelse - fornemt reproduceret, så man næsten har fornemmelsen af at have originalen foran sig. Transskriptionen af manuskriptet, oversættelser, noteapparat, de velskrevne og alsidige kommentarer og introduktioner er udfærdiget parallelt på dansk og tysk - udgivelsen har også et internationalt sigte. Det i alle henseender smukke værk lukker op til 1400-tallets verden, ikke kun for fagfolk og specialister. For enhver med interesse for krigskunst, kemi og kulturhistorie vil der være perler at hente hos kong Christoffers gamle krudtkommisær."
Jeppe Büchert Netterstrøm, Kontur 16:2007
"Krigskunst og kanoner er et smukt bogværk og en overordentlig grundig og videnskabelig kildeudgivelse, og i begge henseender kan værket varmt anbefales."
Peter Purton, The Castle Studies Group Journal
"This book, magnificently presented in two large-size and superbly illustrated volumes, offers new material of interest to anyone interested in a range of subjects [...]. One of its glories is the reproduction of the superb illustrations accompanying the original text, and which make the text itself much easier to follow. The reviewer's 1967 German O-level was enough (with a dictionary) to understand the text, and the illustrations alone would be worth the price asked. This publication fills a big gap in our understanding of the practice of warfare, and the development of scientific and technical knowledge, in the middle of the fifteenth century."
Dietrich Lohrmann, Technikgeschichte
"Die dänischen Editoren präsentieren das Gesamtwerk in zwei vorbildlich ausgestatteten, preislich günstigen Grossquartbänden.
Die Edition des Kriegsbuches des Johannes Bengedans ergänzt in höchst erfreulicher Weise die laufenden Bemühungen um die noch viel zu wenig erforschten technischen Handschriften des späten Mittelalters und ist aufschlussreich für das frühe technische Interesse in Nordeuropa."
Dieter Heckmann, Militärgeschichlichen Zeitschrift
"Bei dem hier zu besprechenden Werk handelt es sich um das kommentierte Faksimile der Prachtausgaben von Johannes Bengedans' Kriegsbuch und Kanonen, das um 1450 entstanden sein dürfte. Bengedans selbst ist bislang den meisten Forschern, die sich mit dem mittelalterlichen Preussen oder dem Deutschen Orden beschäftigt haben, entgangen."
Dr. Bernhard Schnell, IASLonline
"Diese Arbeit kann aber jetzt leicht in einer künftigen Untersuchung nachgereicht werden. Es bleibt der Dank an die Herausgeber, die mit dieser Ausgabe Grosses geleistet und den Grund für die künftige Erforschung von Bengedans' Werk gelegt haben."
Dr. Hans-Wilhelm Heine, Nachrichten aus Niedersachsens Urgeschichte
"Allen Beteiligten ist für die Vorlage dieser Faksimile-Ausgabe zu danken. Ihr ist eine weite Verbreitung zu wünschen."