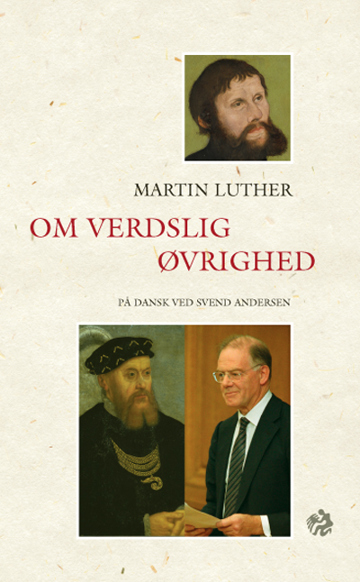 More about the book
Table of contents
Excerpt
Press reviews
Povl Götke Kristeligt Dagblad
"Man kan ifølge Luther ikke umiddelbart, uformidlet, ureflekteret og ukritisk gøre det religiøse gældende, og dermed indførte han de facto et armslængdeprincip i forhold til det.
"Om verdslig øvrighed" er en dybt fascinerende tekst at læse præcis på grund af denne dobbelthed. Og Luther havde altså en helt forrygende evne til at spænde sine overvejelser ud mellem skriftens ord, fornuftens tale og verdens larm på en måde, som gør, at de stadig er vedkommende og inspirerende."
Hans Hauge Jyllands-Posten (****)
"Oversættelsen adskiller sig fra tidligere ved at være meget tæt på originalteksten, og denne er i øvrigt trykt med....Luther skelner mellem to "regimenter": det verdslige og det åndelige eller politik og religion...Luthers skelnen kan endnu få sindene i kog...(Svend Andersens indledning) er både sober og oplysende"
Thomas Reinholdt Rasmussen Præsteforeningens Blad
"Svend Andersen gennemgår på glimrende vis skriftets centrale problemstilling såsom lovens to brug, sværdets legitime magt, den kristnes stilling i verden.
Svend Andersen skal have tak for sin oversættelse og udgivelse af Luthers væsentlige skrift, som også i vor tid har stor betydning."
Jørgen Bartholdy Lektørudtalelse
"I bogen peger Luther på en adskillelse af de to øvrigheder, men i den indledende introduktion gør Thorkild C. Lyby fint rede for bogens baggrund, og for Luthers og protestantismens situation på tilblivelsestidspunktet, hvor ingen - mindst af alt Luther - kunne forudse, hvor radikalt hans opgør med den katolske kirke ville komme til at påvirke tilværelsen for os alle."
Lars Sandbeck Politiken
"Oversættelsen er ikke den første af slagsen på dansk, men den bedste. Teksten er ikke alene oversat til mundret nitidsdansk, men oversættelsen formår også at gengive den retoriske stil, den polemiske og ironiske tone, der er så karakteristisk for Luther...Ud over hele teksten består bogen af en historisk indledning ved Thorkild C. Lyby samt af Svend Andersens præsentation af tankegangen i bogen, hvor han samtidig giver sit eget bud på en tidssvarende opfattelse af forholdet mellem kristendom og politik. Således er man klædt på til at gå videre med selve teksten."