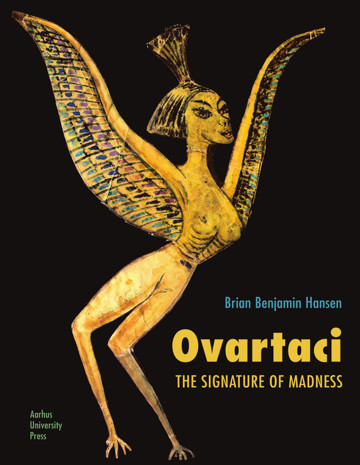 Ovartaci
The Signature of Madness
A part of the subject area Art
More about the book
About the book
Hospitalized following a mental health crisis in 1929, Louis Marcussen (1894—1985) begins a spectacular journey. He fills his room at the psychiatric institution with artworks, with tall and eloquent cut-out female figures, and he seems to invest himself deeply in his work and visions. He dissolves into a swirl of male, female, animal and divine identities. He discards the name 'Louis' and takes the name 'Ovartaci'.
The present book reads Ovartaci's work through psychoanalytical notions of madness and psychosis. It is the first major monograph on an artist that through highly original artistic practices invented a new way of living.
Brian Benjamin Hansen is a postdoctoral researcher at Aarhus University and senior associate professor at VIA University College.
Ovartaci is increasingly recognized as one of the most enthralling Danish artists of the 20th century. At the 2022 Venice Biennale, the art of Ovartaci is part of the main exhibition and displayed in the Central Pavilion.
Read more: Biennale of Venice
Table of contents
Excerpt
Press reviews
Susanne Christensen, Vagant
"Det er i nærstudiet af fællestrækkene mellem psykose og en animistisk selvforståelse, at Hansens undersøgelser bliver interessante. Han bruger Rune Gades udtryk om »eksistentielt integreret kunst« i stedet for outsiderart, og jeg begynder at se, at Ovartaci investerer al sin fantasi og filosofiske viden for at overkomme den uforankrethed, som psykosen har kastet hen ud i.
(...) Hansens studie gør Ovartaci overraskende aktuel i 2022, hvor mange oplever negativ stress omkring traditionelle kønsidentiteter."
Redaktionen, Magasinet Kunst
"Bogen bidrager til en videnskabelig analyse af kunstneren. Med kilder i form af både Ovartacis journal, kunstnerens egne udsagn og fortællinger samt selvfølgelig de mange værker og dertil værkanalyser, behandler bogen centrale temaer hos Ovartaci såsom sjælen og det spirituelle, identitet, køn, kroppen og det seksuelle. Man får en forståelse for Louis Marcussen og hvordan han gennem kunsten kunne genskabe sig selv som Ovartaci."
The Montréal Review
Essay: "In Defense of Madness. On the Art of Ovartaci"
Januar 2023
Klassekampen
Essay: "Gærningen over alle gærninger"
04.02.2023