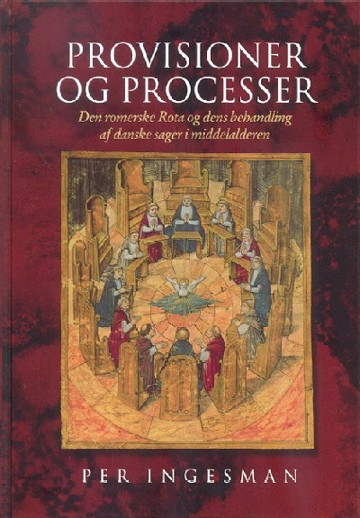 Provisioner og processer
Den romerske Rota og dens behandling af sager i middelalderen
A part of the subject area Theology
More about the book
Table of contents
Forord

Kapitel I: Introduktion:
1. Den romerske Rota og kritikken af den pavelige retsudøvelse
2. Kong Hans og Rotaprocessen mellem Nonneklostret og Johanniterklostret i Ribe - et eksempel
3. Dansk utilfredshed med den pavelige retsudøvelse i senmiddelalderen
4. Valg og afgrænsning af emne

Kapitel II: Forskning og problemstillinger:
1. Forskningen i den middelalderlige Rota
2. Hillings syn på Rotaprocesserne fra Hildesheim
3. Lindbæks syn på de danske Rotaprocesser
4. Undersøgelsens problemstillinger og arbejdsspørgsmål
5. Undersøgelsens indhold, sigte og opbygning

1. Del: Den romerske Rota i middelalderen:

Kapitel III: Træk af Rotaens historie:
1. Rotaens tilblivelse
2. Avignonpavernes grundlæggende konstitutioner
3. Martin V's lovgivning
4. Reguleringerne i anden halvdel af det 15. århundrede
5. Sammenfatning

Kapitel IV: Rotaens organisation og arbejdsmåde:
1. Auditørerne
2. Notarerne
3. Advokater og prokuratorer
4. Domstolens arbejdsmåde
5. Sammenfatning

Kapitel V: Procedure og procesforløb ved Rotaen:
1. Retsgrundlaget
2. Procesforløbet ifølge procestraktaterne
3. Procesforløbet ifølge bevarede procesakter
4. Procesforløbene i beneficiesager
5. Sammenfatning

Kapitel VI: Bevaret materiale fra Rotaen:
1. Rotaarkivets historie
2. Procesmateriale i og fra Rotaens arkiv
3. Decisionessamlingerne
4. Lokalt Rotamateriale
5. Materiale i de pavelige registerserier
6. Sammenfatning


2. Del: De danske processer for Rotaen:

Kapitel VII: Kildematerialet til de danske Rotaprocesser:
1. Den danske udnyttelse af Vatikanarkivet
2. Materiale fra danske processer i Rotaarkivet
3. Pavebrevenes vidnesbyrd om danske Rotaprocesser
4. Rotamateriale i danske arkiver
5. Sammenfatning

Kapitel VIII: De danske Rotaprocesser før 1470:
1. Pavebrevene som kilde til danske Rotaprocesser
2. De tidligste danske Rotaprocesser
3. Danske processer for Baselerkoncilets Rota
4. Sammenfatning

Kapitel IX: Kvalitativ analyse af udvalgte danske Rotaprocesser:
1. Lokalt Rotamateriale som kilde til danske Rotaprocesser
2. Processer med bevaret dansk Rotamateriale
3. Striden mellem Roskildebispen og Sorø kloster
4. Striden mellem Mårkær og Præstø antoniterhuse
5. Striden om kapellet i Husum
6. Striden mellem Slesvig bispen og Didrik Brus
7. Sammenfatning

Kapitel X: Kvantitativ analyse af de danske Rotaprocesser 1464-1536:
1. Rotaens manualiaserie som kilde til danske Rotaprocesser
2. Processernes kronologi
3. Processernes genstande
4. Processernes parter
5. Processernes årsager
6. Processernes varighed
7. Sammenfatning

Kapitel XI: De danske Rotaprocesser i middelalderen:
1. De danske Rotaprocesser som historisk fænomen
2. Den danske konges forhold til de pavelige provisioner
3. Baggrunden for den danske utilfredshed med den pavelige retsudøvelse

Kapitel XII: Den romerske Rota i middelalderen:
1. Sammenfatning af afhandlingens hovedresultater
2. Diskussion (1): Rotaen og det pavelige provisionsvæsen
3. Diskussion (2): Rotaen som domstol
4. Konklusion

Summary: Provisions and Suits: The Roman Rota and how it Dealt with Danish Cases in the Middle Ages

Forkortelser
Kilder og litteratur:
1. Utrykte kilder
2. Trykte kilder og periodica
3. Litteratur
4. Opslagsværker
Diverse Bilag
Personregister
Stedregister
Press reviews
Jens E. Olesen American Historical Review
"... impressive ... Specialists on the Vatican archives are rare; this volume contributes important knowledge not only on Danish provisions and suits before the Rota but also on papal jurisdiction during the Middle Ages. I do hope that the author will continue his studies, including a publication of the Danish Rota material."
Tore Nyberg Kyrkohistorisk Årsskrift 2006
"Undersökningen i två delar på tilsammans 511 sidor text är genomförd med enastående akribi og logisk översiktlighet. Det har först og främst sin bakgrund i att författaren själv har genomgått och med bred läsning av hittillsvarande litteratur skaffat sig en förnämlig överblick över hela materialet rörande Danmark i Rotans arkiv, såväl i det Vatikanska arkivet som i äldra fotokopior i Köpenhamn...man kan bruka Ingemanns utförliga och stabila arbete som ett gott hjälpmedel til förståelsen av ett komplicerat fenomen."
Brian Patrick McGuire Revue d'Histoire Ecclésiastique
"... a landmark in new research ... [A] work of great significance ..."    
Ole Buchard Olesen Præsteforeningens blad
"[Indholdet er] vægtigt og spændende ... bogen forvandler knasende tør arkivforskning til spillevende historie."