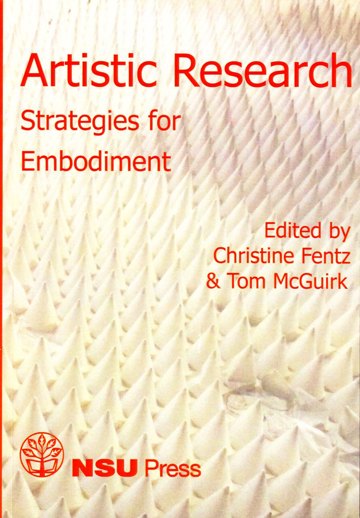 Artistic Research
Strategies for Embodiment
A part of the series NSU-press , and the subject areas Philosophy and Art
---
---
Paperback
Published 19. August 2015
ISBN 978-87-87564-95-3
---
Edited by
Christine Fentz and Tom McGuirk
With contributions by
Eduardo Abrantes, Christine Fentz, Carsten Friberg, Luisa Greenfield, Disa Kamula, Helka-Maria Kinnunen, Cecilia Lagerström, Larissa Lily, Lucy Lyons, Tom McGuirk, Antigoni Pasidi, Per Roar, Angela Rogers, Elina Saloranta, Naomi Sex, Joanna Sperryn-Jones, Tereza Stehlíková and Martin Søberg
---
More about the book
About the book
Artistic research is still a relatively new field and therefor the publication of this anthology constitues a significant moment. This volume presents an abundance of approaches to artistic research and demonstrates the breadth and variety of such research. It does so from the viewpoint of several disciplines, encompassing the performing arts, dance, voice work, fine art, drawing, film, video, architecture and philosophy.
The book in your hands presents some of the work that emerged from Study Circle 7: Artistic Research - Strategies for Embodiment (2010-2012), under the auspices of the Nordic Summer University (NSU). This volume presents a natural progression from the first Study Circle 7 (2007-2009) and the resultant anthology: At the Intersection Between Art and Research: Practice Based Research in the Performing Arts (2010).
It is often asserted that the body shapes all aspects of cognition. The arts, more than any other field of human knowledge, question and challenge the idea of a separation of body and mind. Embodiment is the thread that runs through the contributions to this anthology. To research one's own artistic process while in the midst of it - as many contributors have done here - demands cognizance of the body; one's own and that of others.
The work of the Study Circle was framed by an engagement with various aspects of the body's role in artistic work and research. The contributions reflect the spirit in which the deliberations of the Study Circle were conducted, one characterized by a generous exchange of ideas and a willingness to challenge definitions and transcend borders.
Table of contents
Can I Argue with a Gesture? About the Virtues of Doing Research
Silent Walk: Unpredictable Encounters in Urban Space
Mapping the Terrain of Lived Space: On the Relationship Between Touch, Memory and the Moving Image
Reflections in a Window Pane
The Disquieting Image: Tracing the Visual Essay
Kutiyattam: An Encounter
Mind the Body: A Choreographed Performance Situation
Cutting Up Conference Papers: Audience Participation in Breaking as Making
Next - Previously -Meanwhile
The Viewer-Performer Relationship: Partners in Crime?
Drawing Embodied Knowledge: A Dangerous Activity
What Might We Discover by Drawing the Spaces Between Us?
Sketching Thoughts: Hand, Eye and Mind in Artistic Architectural Research
Drawing: Embodied and Situtated Knowing
On the Uses of the Voice: Sharing Through Resonance and Other Metaphors
Embodiment Through Listening: Standing on Stage and Being Able to Speak
A Performer's Time: An Approach to Collaborative Artistic Practice
A Walk Thorugh Walking