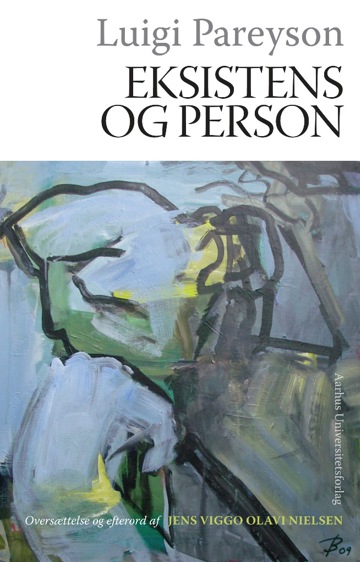 Eksistens og person
A part of the subject area Philosophy
---
---
Paperback
Published 11. October 2011
ISBN 978 87 7934 391 7
---
Translated to Danish and with commentary by
Jens Viggo Olavi Nielsen
---
More about the book
Table of contents
Press reviews
Rasmus V. Christensen, Figenbladet
"Den danske udgave af Luigi Pareysons Eksistens og person med oversættelse og lærerigt efterord af idehistoriker Jens V. O. Nielsen præsenterer læseren for fyrre års provokerende tænkning, der søger at fremskrive en genopdaget kristendom. Den er et studie værd."
Rasmus Vangshardt, religion.dk
" [...] som det første land i verden har Danmark netop fået en oversættelse af [Luigi Pareysons] store værk Eksistens og person".
Kresten Lundsgaard-Leth, Slagmark nr. 66
"Selvom Pareysons sene mellemværende med en Schelling-inspireret frihedsontologi efter alt at dømme udgør forfatterskabets kulmination, er det afgjort tiden og koncentrationen værd foreløbig at kaste sig over den nyligt oversatte moppedreng, Eksistens og person fra 1950 (…), der således har status som Pareysons tidlige(re) hovedværk. Værket er oversat til et fint læseligt (om end en smule arkaisk) dansk og desuden forsynet med et hele 129 sider langt efterskrift af Jens Viggo Olavi Nielsen, der af samme grund(e) må formodes at have investeret en hel del arbejde i denne udgivelse. Og hatten af herfor, selvfølgelig. (…)
Pareysonsvidereudvikling- og overskridelse - af eksistenstænkningen, (…) som han henviser til som en art "ontologisk personalisme", trækker på sin side eksplicitte veksler på en anden af den tyske idealismes hovedpersoner, nemlig Friedrich Wilhelm Joseph Schelling. (…)

Det kan ikke lade sig gøre at yde retfærdighed mod Pareysons komplekse argumenter for sin personalisme hér, men Pareysons synspunkter er ganske givet ikke blevet mindre aktuelle, efterhånden som flere filosoffer (bl.a. Hutter, Hogrebe og allerede nævnte Gabriel og Žižek) i de senere år synes at have genoptaget Schelling.
Jens Viggo Olavi Nielsens omfattende, grundige og samvittighedsfulde "Efterord" er helt afgjort også værd at læse. Det er desuden bemærkelsesværdigt, hvordan Olavi Nielsen her lægger sig grundigt ud med den anden af Danmarks bedst kendte Pareyson-fortolkere, nemlig Søren Gosvig-Olesen."