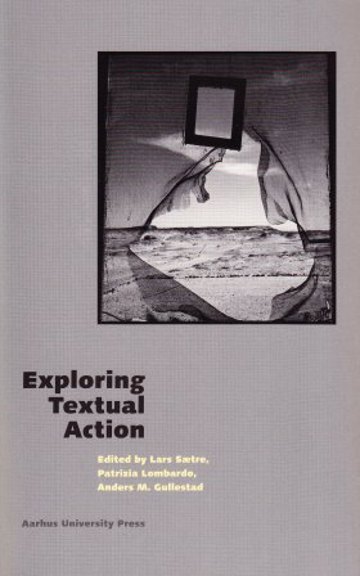 Exploring Textual Action
A part of the series Acta Jutlandica (Humanistisk serie, 2010:5) and the subject area Art
---
Available e-book formats:
---
Paperback
Published 17. December 2010
ISBN 978 87 7934 460 0
---
Edited by
Anders M. Gullestad Patrizia Lombardo and Lars Sætre
With contributions by
Erika Fischer-Lichte Jorunn S. Gjerden, Asbjørn Grønstad, Anders M. Gullestad, Atle Kittang, Randi Koppen, Svend Erik Larsen, Patrizia Lombardo, J. Hillis Miller, Ragnhild Evang Reinton, Tone Selboe, Anders Kristian Strand, Lars Sætre and Mads Thygesen
---
More about the book
About the book
Exploring Textual Action questions how we analyse works of art after the performative turn and shows how the interplay of performativity (textual action), space and topography, and the converging of genres and art forms is essential in modern drama, theatre, prose fiction, poetry and film. The volume also fosters a keen concern for the development of congenial theory.
Its 14 detailed essays analyse works of art ranging from Balzac, Melville and George Eliot, to Breton, Kafka, Benjamin, Blixen and Woolf; and from W.C. Williams, Bresson and Scorsese, to Sarraute, Duras, Reygadas, Dumont and Waltz. The approach of these studies discloses the art works as creative and dynamic utterances with active and shaping forces so powerful, and consequential, that they have the potential to transform human perception and blur clear distinctions between art and "real" life.
Using an alternative and dynamic method and suggesting a direction towards the detailed analysis of literature, art, media and culture, Exploring Textual Action addresses current debates within the humanities.
Press reviews
Journal of Theatre Research International
"[…] the quality of the essays and their bold attempt to connect literary and art theories with the theories of subject, intersubjective relations and communication merit respect and recognition."