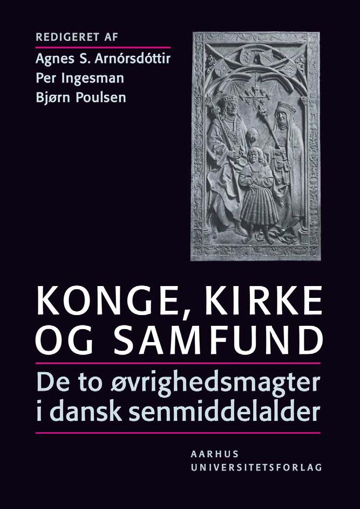 Konge, kirke og samfund
De to øvrighedmagter i dansk senmiddelalder
---
---
Paperback
Published 11. January 2007
ISBN 978 87 7934 216 3
---
Edited by
Agnes S. Arnórsdóttir, Per Ingesman and Bjørn Poulsen
With contributions by
Agnes S. Arnórsdóttir, Lars Bisgaard, Anders Bøgh, Per Ingesman, Grethe Jacobsen, Carsten Selch Jensen, Bigitte Bøggild Johannsen, Kaare Rübner Jørgensen, Søren Kaspersen, Birgitte Langkilde, Henrik Lerdam, Jeppe Büchert Netterstrøm, Jens E. Olesen, Bjørn Poulsen, Carsten Porskrog Rasmussen and Mikael Venge
---
More about the book
Press reviews
Sune Vangsgaard Lauridsen, www.historie-online.dk
"Det sidste afsnit behandler altså på en ganske nuanceret måde det meget differentierede samfund, hvori kirke og konge samspillede for at forblive på magten. Derved skaber afsnittet en god og perspektiverende udgang på bogen."
"[...] en rigtig god indgang til et forsømt forskningsområde."
"[...]kan læses af såvel professionelle historikere som af alment historieinteresserede."
"[...] et godt arbejdsredskab i en forhåbentlig fremtidig forskning inden for dette område."
Mikael Holt, Kristeligt Dagblad
"Resultatet af stort forskerseminar på Aarhus Universitet er en fremragende antologi om middelalderen [...] Bidragyderne repræsenterer mange historiske specialer. De er hver især eksperter inden for deres felt, og det ses naturligvis af artiklerne, som på den måde med dybtgående enkeltstudier præsenterer et meget mangfoldigt billede af dansk senmiddelalder. Men det tværfaglige miljø har tydeligvis virket inspirerende. Og inspirationen når ud til læseren, der får lyst til at vide mere og få et endnu mere nuanceret og levende billede frem af menneskelivet i den brogede og mangfoldige middelalder."
Thomas Hoffmann, Jyllands-Posten
"Flot og gennemført overblik af det egyptiske miljø".
Brian Patrick McGuire, Revue d'Historie Ecclèsiastique, Bibliotèque de l'Université B. Louvain-La-Neuve
"I can recommend this collection of articles to anyone interested in the later Middle Ages. Danish developments are seen in a larger European context, while at the same time the Danish experience helps us better to understand how power and piety developed in the transition from medieval to modern."
Benjamin Lassiwe, Grenzfriedenshefte 4:2007
"[...] ein Kaleidoskop von Aufsätzen, das in grosser inhaltlicher Vielfalt einen guten Überblick über den aktuellen Stand der Forschung zur Geschichte des Spätmittelalters in der dänischen Monarchie gibt."
M. Bukhardt, Hansische Geschichtsblätter
"- Stehen die Artikel für sich genommen nur teilweise in Verbindung mit einander, so werden sie durch die gelungene Zusmmenfassung der drei HGG. (557-582) miteinander und dem Hauptthema des Sammelbandes verbunden. Ausgehend von einem focaultschen funktionellen Machtverständnis werden Macht und Machtausübung im dänischen Spätmittelalter noch einmal übergreifend diskutiert. König und Kirche werden nur als die beiden mächtigsten unter vielen Machthabern identifiziert, deren ständiges Ringen in einer politischen Landschaft mit unvollständiger Machtkonzentration als ein zentraler Bestandteil der spätmittelalterlichen Gesellschaft festgehalten wird. Zugleich werden offene Forschungsfragen, wie etwa das Problem der Mahtlegitimierung und - zurschaustellung in die Diskussion eingebracht."