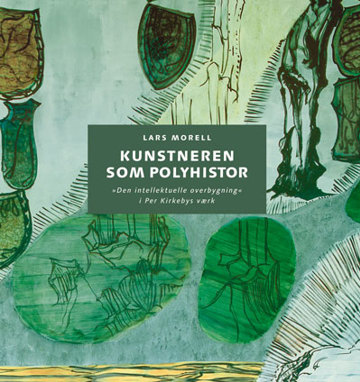 Kunstneren som polyhistor
"Den intellektuelle overbygning i Per Kirkebys værk"
A part of the subject area Art
More about the book
Table of contents
Excerpt
Press reviews
Ole Lindboe Magasinet Kunst
"[Det er] en meget værdifuld bog Lars Morell har begået om Per Kirkeby og hans værk."
Line Helena Bak Unold Morgenavisen Jyllandsposten
"Endelig kom den gennemarbejdede, tværgående bog om Per Kirkebys kunst. Dette er, i ordets mangfoldige betydning, en ordentlig bog. På alle måder ordentlig - i omfang, indhold, struktur og layout. Forfatteren og idéhistorikeren Lars Morell har skabt et monument i Kirkeby-litteraturen, der uden tvivl vil blive brugt af kommende slægter som den store 'Kirkeby-bibel'.
En ordentlig mundfuld, men sikke en himmerigsmundfuld.
For alle Kirkeby fans er bogen et absolut 'musthave', der er ingen vej udenom - og prisen er ikke skamløs!
Det helt exceptionelle ved Morells bog er, at den kan læses af ALLE - både nybegyndere, let-øvede og specialister. Morell formidler sine geniale betragtninger på en meget ukrukket og alt andet end akademisk indforstået måde. Bogen er spækket med flotte billedanalyser, der fanger essensen af Kirkeby."
Peter Laugesen Information
"Det er en smukt produceret bog. Fint balanceret layout, klar typografisk disponering så man får lyst til at læse i den. Som en levende og næsten organisk ting, kan man læse Lars Morells bog."
Torben Weirup Berlingske Tidende
"Morell har skrevet en både læselig og meget læsværdig bog om Per Kirkeby ... en glimrende bog ... forførende billedanalyser ... en formidlingsmæssig bedrift."
Lisbeth Bonde Weekendavisen
"Bogen fremlægger et imponerende stof, der lægger alen til vores forståelse af Kirkebys mangefacetterede kunst ... Morell ... skriver forbilledligt utrendy og uakademisk, så alle interesserede lægfolk kan være med ... Bogen er intet mindre end en formidlingsmæssig bedrift og et overblikskabende værktøj for alle, der interesserer sig for Kirkeby."
Peter Michael Hornung Politiken
"'Kunstneren som Polyhistor' er klar og velskrevet."
Bente Scavenius Børsen
"...yderst interessant"
Gregers Dirckinck-Holmfeld Ekstra Bladet
"*****"
Henning Prins Helsingør Dagblad
"... en mægtig godt skrevet og herligt illustreret bog ... Læs den og nyd den, mens du bliver bestrålet."
Erik Meistrup Hrymfaxe
"... et utroligt ambitiøst værk ... Det er yderst interessant og meget oplysende at følge Morells odyssé for at skabe et sammenhængende billede ... der skal lyde en opfordring til at studere dette provokerende værk, der afgørende betyder en ny måde at opleve og forstå Per Kirkebys værker på."
Karen Skovbjerg Jydske Vestkysten
"Læseren bliver klogere på Kirkeby, kunsten og livet i hvert eneste kapitel ... Og Morells bog kan læses af alle, både nybegyndere og viderekomne, det er en milepæl i den store litteratur om Kirkeby."