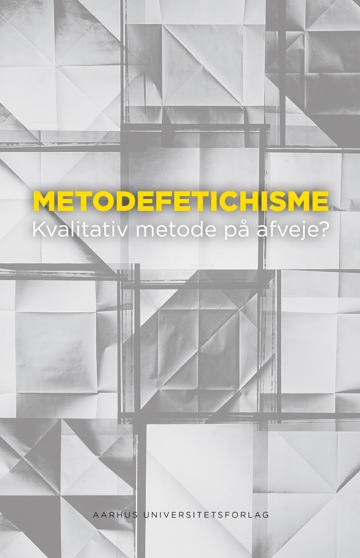 Metodefetichisme
Kvalitativ metode på afveje?
A part of the subject area Philosophy
---
---
Paperback
Published 14. August 2015
ISBN 978 87 7124 234 8
---
Edited by
Søren S.E. Bengtsen, Karen P. Munk and Jane Ege Møller
With contributions by
Søren S.E. Bengtsen, Svend Brinkmann, Christian Sandbjerg Hansen, Finn Thorbjørn Hansen, , Michael Hviid Jacobsen, Andrew M. Jefferson, Kristian Larsen, Anders Kruse Ljungdalh, Annette Markham, Karen P. Munk, Jane Ege Møller, Morten Nissen, Finn Olesen, Jens Thisted and Kathrine Vitus
---
More about the book
Table of contents
Kvalitative tendenser og kvantitative aflejringer
Metoden, der sprænger sig selv
De uregerlige digitale rum: at bruge kvalitative metoder i internetforskning
Om galskab og refleksion: begrundelse for en pato-epistemologisk metode
Metodespørgsmålet og praksisfilosofien: bidrag til en kreativ metodeforståelse
Teori-metode-empiri-teknik: sammenvævede konstruktioner!
Utopiarbejde: udkast til en forskningsmetode
Det sokratiske forskningsinterview: et alternativ til kvalitativ forskning forstået som 'vidensproduktion'?
Den metaforiske fantasi: kreativ rekontekstualisering og rekonstruktion i kvalitativ metode
"At være menneske i en verden, der hele tiden forandrer sig og bryder sammen"