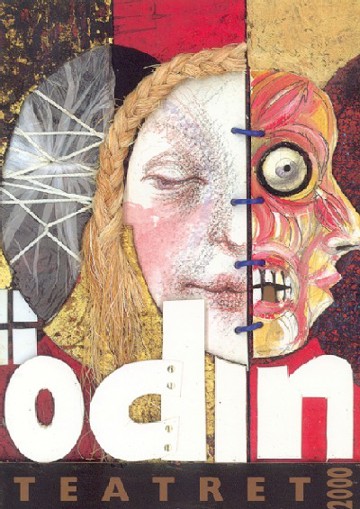 Odin Teatret 2000
A part of the series Acta Jutlandica (76:1; Humanities Series, 74) , and the subject areas Drama and Art
---
---
Paperback
Published 17. November 2000
ISBN 87 7288 872 5
---
Edited by
John Andreasen and Annelis Kuhlmann
With contributions by
Elin Andersen, John Andreasen, Eugenio Barba, Jørn Bjerre, Roberta Carreri, Erik Exe Christoffersen, Tony D'Urso, Kirsten Hastrup, Klaus Hoffmeyer, Torunn Kjølner, Annelis Kuhlmann, Morten Kyndrup, Svend Erik Larsen, Peter Laugesen, Niels Lehmann, Chr. Ludvigsen, Iben Nagel Rasmussen, Janne Risum, Steen Sidenius, Ulrik Skeel, Julia Varley and Frans Winther
---
More about the book
About the book
The Odin Teatret was founded in 1964 in Norway and for 34 years has been based in Holstebro, Denmark, away from the capital and the centre for theatre. It also tours in other countries. What makes this theatre special in comparison to others, is that 'it comprehends theatre as a specific social and spatial reality, often expressed through the metaphor of a monastery, ghetto or exile'.

The theatre laboratory has many other activities than the mere creation of theatre performances; it also conducts seminars, conferences and meetings with theatre people from around the world. It has published a series of books and magazines about theatre technique and theory and produced films and videos.

This is a remarkable book for actors, dancers, writers, directors, choreographers and others involved in creative theatre production. It is also a valuable resource for anyone who is captivated by the art and craft of the theatre.
Table of contents
Editors' Prologue to Odin Teatret 2000

Act I. Theatre & Traditions:
Peter Laugesen: Roman Meditations
Eugenio Barba: Tacit Knowledge: Heritage and Waste
Janne Risum: The Impulse and the Image. The Theatre Laboratory Tradition and Odin Teatret
Erik Exe Christoffersen: Odin Teatret: Between Dance and Theatre
Roberta Carreri: Traces in the Snow
Annelis Kuhlmann: Foot and fantasy. Act in shoes
Frans Winther: Odin Teatret and the music

Act II. Text & Performance:
Elin Andersen: A Doll's House: Odin meets Ibsen
Klaus Hoffmeyer: Directing Shakespeare
Morten Kyndrup: Mythos - Text and Performance
Julia Varley: Dramaturgy according to Daedalus
Iben Nagel Rasmussen: Fragments of an Actor's Diary
Svend Erik Larsen: As Time goes by ... Theatre and Memory

Act III. Social Function, Philosophy & Theatre:
John Andreasen: The Social Space of Theatre - including Odin Teatret
Niels Lehmann & Steen Sidenius: Postromantic Romanticism: A Note on the Poetics of the Third Theatre
Torunn Kjølner: Searching for Differences

Act IV. Behind the Curtain:
Kirsten Hastrup: For Odin!
Chr. Ludvigsen: Open Letter 36 years later - a Framework of Moles
Tony D'Urso: Pictures of Odin
Janne Risum: ISTA - what's in a name?
Ulrik Skeel: Dancing without Light. A Note from the Administration
Jørn Bjerre: Odin Teatret and the Art of perpetuating Creativity through Difference
John Andreasen: Ode to Odin 2000
Editors' Epilogue: On the Authors of Odin Teatret 2000