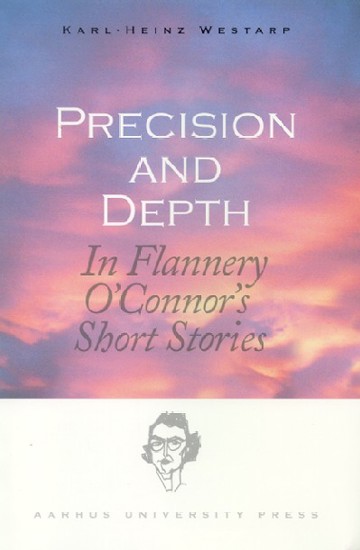 More about the book
About the book
What is it that shocks newcomers to the works of Flannery O'Connor and what makes them return? The perfection of her language and her images allures her readers, the precision of her settings and her characters keeps them spellbound because the surface reality of her stories - enjoyable in itself - touches deeper layers of human experience.

For O'Connor the art work was an embodiment of spiritual reality as much as Jesus was the Word made flesh. In his study the author presents readings of O'Connor's stories, which proove that she is a master of showing mystery through manners, depth through precision.
Karl-Heinz Westarp is associate professor at the department of English, Aarhus University.
Table of contents
Chapter 1: Precision and Depth in Flannery O'Connor's Short Stories: A Summarizing Introduction
Word made Flesh Made Word: Theological Metaphoricity
Linguistic Pointers of Metaphoricity
Depth Through Precision: Art as Metaphor
Mystery Through Manners
Flannery O'Connor: Respected Writer of the South
Establishing the Correct Text: Manuscript Studies
Looking for the Depth Dimension

Chapter 2: O'Connor's Artistic Development Exemplified Through the 'Judgement-Day' Material
Manuscript Evidence
The Published Text and Dunn 197b
How Do the Final Changes Affect the Story as a Whole?

Chapter 3: Translucency in O'Connor's Settings

Chapter 4: 'Parker's Back' and O'Connor's Use of Teilhardian Imagery
The Byzantine Christ with All-demanding Eyes
An Instance of Cross-fertilization
O'Connor, Teilhard de Chardin and 'Parker's Back'
Flannery O'Connor's Interest in Teilhard de Chardin
What did Flannery O'Connor borrow from Teilhard
A Teilhardian Reading of 'Parker's Back'

Chapter 5: O'Connor's Treatment of Homo Viator in 'The Displaced Person'

Chapter 6: O'Connor's Presentation of Mystery and Evil
Mystery in Flannery O'Connor and Eudora Welty
Shades of Evil in O'Connor and Walker Percy

List of Abbreviations
Bibliography of Works Cited
List of the Author's Previously Published Material on O'Connor
Index