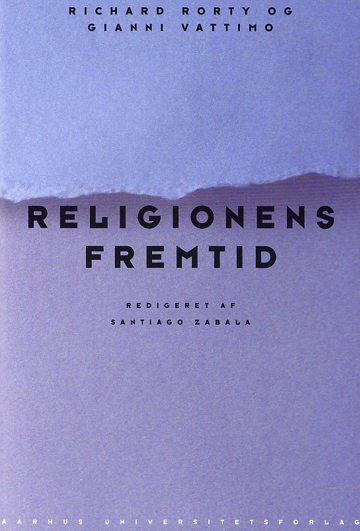 More about the book
Press reviews
Rune Lykkeberg Information
"Den forhenværende ateist og nu afdøde Richard Rorty mødes med den erklærede halvtroende tænker Gianni Vattimo i en strålende lille bog om religionens fremtid efter metafysikken. (...) Samtalen mellem de to er interessant som studie i, hvordan en forhenværende ateist og en erklæret 'halvtroende' på argumenter kan nå frem til enigheder om, hvad der er det rigtige.
Jens Viggo Nielsens fremragende efterord følger de to tænkeres fortolkninger derud, hvor de både kolliderer og bliver problematiske. Efterordet fuldbyrder mødet mellem Zabala, Vattimo og Rorty i en glimrende bog...".
Lars Sandbeck Politiken
Hvis religionen accepterer, at alt er fortolkning, må den opgive sin hang til dogmatik og politisk og etisk magt, og i stedet stille sig tilfreds med næstekærligheden, der hos Vattimo og Rorty betegner den hæmningsløse tolerance over for forskellighed og åbenhed over for andres fortolkninger. Netop kristendommens krav om næstekærlighed ser Vattimo som en forløber for nihilismen, idet vi for virkelig at kunne elske næsten, må opgive kravet om at have ret og besidde sandheden. Og temmelig kontroversielt, men ikke helt uunderbygget, påstår Vattimo derfor, 'at den postmoderne nihilisme er kristendommens aktuelle sandhed'.
Hvorvidt den postmoderne samtidsdiagnose overhovedet holder vand, eller om religionens eneste mulighed er næstekærlighed, kan bestemt diskuteres. Det gør bogens oversætter, Jens Viggo Nielsen, så i et langt efterord, der rummer en særdeles kompetent kritik af Rorty og Vattimo.
Morten Thomsen Højsgaard Kristeligt Dagblad
"Sympatisk er udgivelsen, fordi den ærligt forsøger at give et svar på et spørgsmål, de fleste troende før eller siden støder på i den moderne verden: Hvordan kan jeg overhovedet tro, når videnskab og teknologi for længst ser ud til at have sat Gud ud af spillet? Bogens svar er, at Gud i kirkens forstand - altså som en objektivt handlende magt - er død. Til gengæld er gudstroen i individuel forstand - altså som en genstand for personlig tro - genopstået. Gud er ikke længere til i virkeligheden, men lever i bedste velgående i fortolkningen og i dialogen mellem mennesker".
Nils Gunder Hansen Berlingske Tidende
"Oversætteren Jens Viggo Nielsen har forsynet Religionens fremtid med et langt efterord, hvor meget af det, som Rorty og Vattimo siger og står for, bliver kritiseret på baggrund af idéhistorisk og teologisk indsigt (...). Det er reelt bogens vægtigste indlæg".
Flemming Faarup Lektørudtalelse
"Bogen er et filosofisk/religiøst indlæg i en debat om religionens rolle i det postmoderne samfund. Den henvender sig til filosofiinteresserede, religionshistorikere og lignende [...] En interessant bog med et interessant emne, hvilken rolle spiller religion for mennesker i vor tid, set i sammenhæng med den øvrige udvikling af politiske, sociale og historiske forhold."