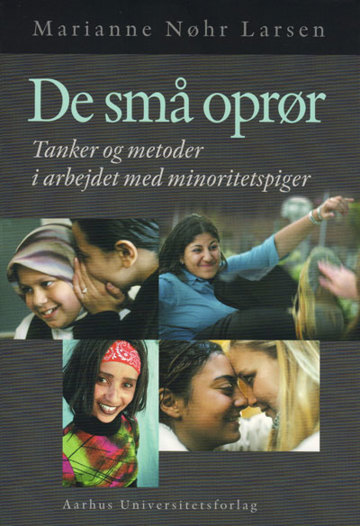 More about the book
Table of contents
Excerpt
Press reviews
Anne Knudsen

Weekendavisen
"Marianne Nøhr Larsens tænksomme analyse af den situation, unge piger med anden etnisk baggrund står i ... har konstant fokus på de unges egne erfaringshorisont og egne muligheder. Nøhr Larsen er velsignet konkret det meste af bogen igennem."
Anny Skov Madsen Lektørudtalelse
"Til trods for de allerede mange udgivne bøger om kulturmøder og integration er det en vigtig bog for alle, der arbejder med integrationsprojekter eller arbejder med etniske minoriteter, idet den både giver konkret vejledning og er en dybtgående kulturel indfaldsvinkel til at forbedre dialogen mellem os og dem. Kulturerne er sat i bevægelse."
Socialpædagogen
"... her giver hun [forfatteren] et loyalt og ganske optimistisk indblik i minoritetspigernes måde at håndtere familie og tradition. Bogen ... giver ... bud på en opkvalificering af det pædagogiske arbejde med pigerne."
DGI magasinet UDSPIL
"... bogen [kan] fungere som en vejledning til alle der arbejder med integration i idrætsforeninger, skoler, klubber og institutioner."
Irene Clausen

LVU fagbladet
"Den bog kan være et fantastisk redskab for alle, som arbejder med tosprogede børn og unge."
"Bogen giver overblik og bud på, hvordan problemer kan løses - og hvordan der kan opkvalificeres i den almindelige pædagogiske dagligdag såvel som i rådgivnings- og behandlerverdenen."
Steen Christensen

Volsmoseavisen
"... en væsentlig bog om etniske minoritetspigers balancekunst på vejen mellem to kulturer fra fortid til fremtid."
"Gennem sin indsigt og optimisme vil bogen kunne være et vigtigt bidrag til at nedbryde en række myter og fordomme om pigernes liv, tanker, drømme og visioner."
"... lader os lære at være loyale og lytte til pigernes egne udsagn ... skaber netop et befriende og sprudlende - både realistisk og poetisk billede, der kan være med til at banke et stort hul i den fremherskende fordom om at etniske minoritetspiger kun er passive og undertrykte ofre for deres familier og hjemlandes kulturer."
"Bogen henvender sig både til menigmand og til fagfolk, som også kan hente god baggrundsviden ..."
Ungdomsringens Nyhedsbrev
"'De små oprør' er en spændende bog, der ... tilbyder en særlig ekspertise omkring etniske minoritetspiger og deres familier."
"... Den klæder fagfolk på til kulturmøder og integrationsarbejde."
Fra Kvinfo's biblioteksside
"De etniske minoritetspiger kommer alt for sjældent selv til orde. Vi hører mest om dem, når der diskuteres tørklæder, tvangsægteskab og æresdrab. Det råder antropologen Marianne Nøhr Larsen nu bod på med bogen 'De små oprør'."
Dansk Flygtningehjælps Frivillig-nyhedsbrev
"Flere af bogens synspunkter vil sikkert provokere, som fx at hvis vi mener, at pigerne skal have lov at bestemme over deres eget liv, må vi også acceptere, hvis de synes, det er fint, at forældrene arrangerer deres ægteskab. De små oprør rummer tankevækkende samtaler med unge minoritetspiger, med klubledere og pædagoger."
MS' Minoritetsbibliotek
"... bogen gør dermed op med det fremherskende billede af etniske minoritetspiger som passive tilskuere og som ofre for deres kultur. Bogen tilbyder overblik og bud på, hvor barriererne er, hvordan problemer kan løses."
Rie Græsborg

Sammen, Dansk Flygtningehjælps frivilligblad
"... bogen [er] spækket med viden om og refleksioner over de vilkår de unge piger lever under, handler og tænker ud fra - og som kan kvalificere den frivillige indsats, så vi sikrer at dialogen føres ligeværdigt og med respekt og omhu."
Links
Læs mere om erfaringerne fra seks forskellige pigeprojekter i denne e-bog. Marianne Nøhr Larsen går her i dybden med nogle af de konkrete projekter, som De små oprør bygger på.