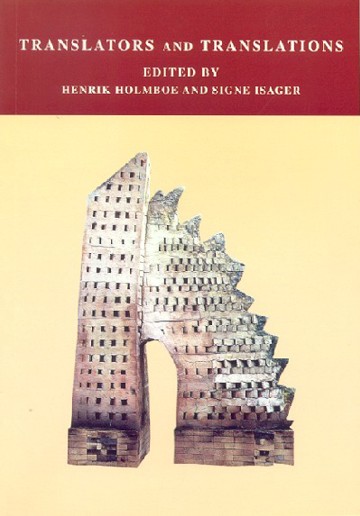 ---
---
Paperback
Published 16. November 2001
ISBN 87 7934 003 2
---
Edited by
Henrik Holmboe and Signe Isager
With contributions by
Lene Andersen, Frieda Charalabopoulou, Aristea Papanicolaou Christensen, Otto Steen Due, Henrik Gottlieb, Rolf Hesse, Minna Skafte Jensen, Niels Jæger, Leo Kalovyrnas, Takis Kayalis, Jørgen Mejer, Lars Nørgaard, Iannis Papadakis, Dimitris Papanikolaou, Sophia Scopetea and Chr. Gorm Tortzen
---
More about the book
About the book
The difficulties of a translation vary with the character of the text, the nature of the languages involved and the intended audience. Working in two languages that boast long recorded histories yet lack the status of 'passport' tongues, the contributors to this volume wrestle with the full range of problems encountered by translators everywhere.

The first section focuses on translations from ancient Greek to Danish, with essays that describe specific textual challenges - the Iliad, the New Testament, the Greek tragedies translated for the stage - and take up the question of the reception of classical civilisation in Denmark. The second group covers renderings of modern literature in both directions.

The next section ventures into less literary territory with several appraisals of how Danish and Greek fare in the multilingual legal and administrative environment of EU institutions.

And the final articles leave books behind altogether to concentrate on subtitling of film in theory and in practice.
Table of contents
Preface

Otto Steen Due: The Forging of a New Danish Iliad

Jørgen Mejer: Translating Greek Tragedy. The Text on the Page, The Drama on the Stage

Minna Skafte Jensen: How Ancient Greek Literature Reached Danish Readers

Lene Andersen: Translating the Bible

Chr. Gorm Tortzen: Translations and Classical Civilization in the Danish Gymnasium

Takis Kayalis: European Literature in Translation: Research at the Center for the Greek Language

Rolf Hesse: Modern Greek Literature in Danish Translation

Note on Bibliography

Sophia Scopetea: On Translating Søren Kierkegaard's Philosophical Fragments into Greek

Lars Nørgaard: Achilleus Paraschos and Two Danish Folk Songs

Aristea Papanicolaou Christensen: Translating into Greek from Danish 19th Century Texts

Dimitris Papanikolaou: How Danish and Greek Legal Languages Meet in the Multilingual Environment of the European Community

Leo Kalovyrnas: Eurospeak: Neologisms and Other Translatory Phenomena in Danish and Greek. The European Parliament Minutes and Reports Corpus

Niels Jæger: Translation from Modern Greek into Danish at the EU institutions

Henrik Gottlieb: Texts, Translation and Subtitling - in Theory, and in Denmark

Iannis Papadakis: Subtitling in Greece. The Fear of the Goalie at the Penalty Kick

Frieda Charalabopoulou: Short Description of the CD-ROM "Filoglossia"

List of Contributors