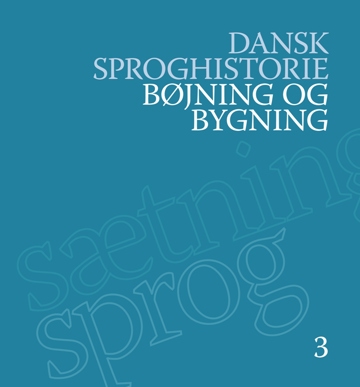 ---
---
Hardback
Published 7. August 2019
ISBN 978 87 7184 164 0
---
Edited by
Ebba Hjorth, Henrik Galberg Jacobsen, Bent Jørgensen, Birgitte Jacobsen, Merete Korvenius Jørgensen and Laurids Kristian Fahl
With contributions by
Michael Lerche Nielsen, Marie Stoklund, Britta Olrik Frederiksen, Hanne Ruus, Henrik Galberg Jacobsen, Sebastian Møller Bak, Lars Heltoft, Marita Akhøj Nielsen, Karen Margrethe Pedersen, Lars Brink, Viggo Sørensen and Inge Lise Pedersen
---
More about the book
Press reviews
Sune Gregersen, RASK – International journal of language and communication
"Det er svært for en grammatiker ikke at blive begejstret for denne flotte og velskrevne bog, der især for syntaksens vedkommende fremlægger mange spændende nye forskningsresultater og analyseforslag.
(…) Bøjning og bygning er samlet set en pragtfuld bog, som nok skal komme til at inspirere og anspore fremtidige sproghistorikere."
Press room
I presserummet kan du finde pressemeddelelser og forsidebillede. Du er altid velkommen til at kontakte os her https://unipress.dk/kontakt/, hvis du mangler andet materiale.