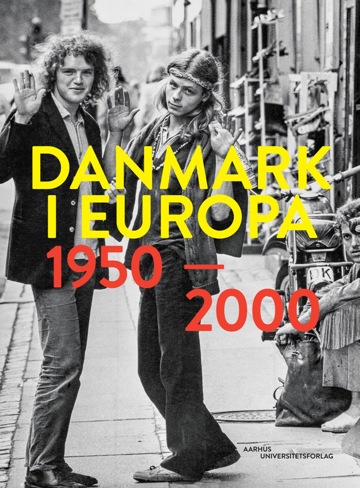 Danmark i Europa. 1950-2000
A part of the subject area History
---
Available e-book formats:
---
Paperback
Published 3. February 2017
ISBN 978 87 7184 251 7
---
Edited by
Peter Bejder
With contributions by
Casper Andersen Finn Arler, Ida Marie Visbech Andersen, Christian Bjørnskov, Asker Hedegaard Boye, Peter Yding Brunbech, Hanne Bruun, Niels Brügger, Peter Bugge, Jens Christensen, Christian Olaf Christiansen, Hans Hauge, Susanne Højlund, Carsten Jensen, Claus Møller Jørgensen, Jørgen Møller, Rasmus Mariager, Christian Axboe Nielsen, Kristian Hvidtfelt Nielsen, Bertel Nygaard, Niels Wium Olesen, Thorsten Borring Olesen, Søren Hein Rasmussen, Rasmus Rosenørn, Karen Gram Skjoldager, Morten A. Skydsgaard, Anne Sørensen, Jan Kahr Sørensen, Louise Karlskov Skyggebjerg, Bodil Marie Stavning Thomsen, Anders Troelsen, Gunver Lystbæk Vestergård, Lisanne Wilken, Jens Wendel-Hansen and Uffe Østergård
---
More about the book
Table of contents
Press reviews
Arne Hardis, Weekendavisen
"Gennemgående er resultatet af anstrengelserne faktisk glimrende. Korte, velskrevne tekster, hver gang over et opslag, flere gange med fremragende illustrationer, af og til endda skrevet, så man kan leve op til kulturhovedstadens rethink-formular."
Tom Ekeroth, Danske Kommuner
"Den er lige så vellykket som forgængeren. 51 velskrevne artikler om den måde, Danmark og verden udviklede sig på, godt forsynet med billeder. Forfatterne er vidt forskellige universitetsfolk, som ved noget om vidt forskellige emner, som jo rækker fra flygtningehjælp over jazzklubber til porno. Der ligger et godt stykke redigeringsarbejde i det, og udvælgelsen virker helt rigtig. Fin og i bedste forstand folkelig historieskrivning."