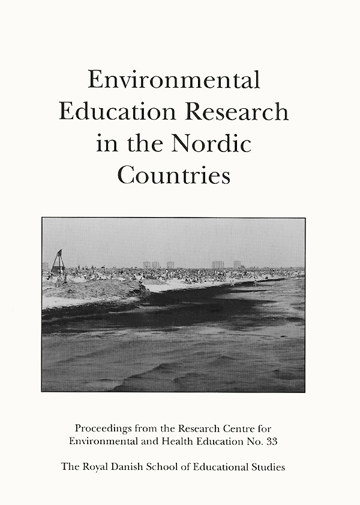 Environmental Education Research in the Nordic Countries
Proceedings from the Research Centre for Environmental and Health Education No. 33
A part of the subject areas and Pedagogics
---
---
Paperback
Published 4. September 1996
ISBN 87 7701 489 8
---
Edited by
Søren Breiting and Kirsten Nielsen
With contributions by
Harriet Axelsson, Anders Bojs, Søren Breiting, Kaare Gerhardt Christensen, Per Eliason, Kristian Hedegaard, Gustav Helldén, Bjarne Bruun Jensen, Kerstin Junker, Terje Kristensen, Peter van Marion, Finn Mogensen, Kirsten Nielsen, Karsten Schnack and Christian Vognsen
---
More about the book
About the book
The present report is a show case to get a glimpse of the research in environmental education in Denmark, Norway and Sweden.
The Nordic Countries share a common culture and basic human values. But besides the similarities there are of cause also many differencies in tradition and experience, and this report exposes examples of this variation from three of the Nordic Countries.
Environmental education is regarded as a cross curricular area with an emphasis on pupils working with environmental issues. In the Nordic Countries environmental education is now more or less tied to general school development. This gives the papers a wider perspective.
This publication originates from contributions at The Second Nordic Researcher Symposium on Environmental Education held at Karlslunde, Denmark, 8th - 11th November 1994.
                                              Søren Breiting & Kirsten Nielsen
                                                                              Editors