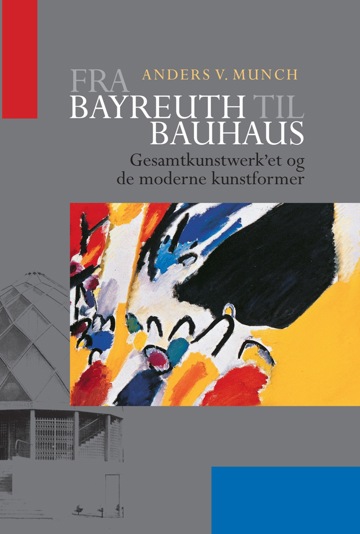 More about the book
About the book
The dream of the Gesamtkunstwerk - the total work of art uniting forms of art and redeeming culture - can be followed in many movements of modern art, design and architecture. There seems to be far from Richard Wagner's festivals in Bayreuth to the many experiments of the avant-garde as ephemeral visions for a future society, but they share the idea of activating all artistic means and transgress the border between art and life. The wagnerian concepts live on in the writings and experiments of artists as different as Kandinsky, Taut and Schwitters, and the examination of the development spans from scenic art and poetry to artists colonies and garden cities, factories and corporate identities. This tradition leads all the way to late Bauhaus concepts like total design-for-life, optical culture and total architecture by Moholy-Nagy and Gropius.
Anders V. Munch is associate professor in design culture at University of Southern Denmark Kolding and prof. II in design history at Oslo School of Architecture and Design
The research was partly done with a three-years post-doc. grant by the Carlsberg Foundation, DK.
 TABLE OF CONTENTS
ORIGINAL IDEAS
1. The artwork of the future
2. Ideals of art in the early Romanticism
3. Festival and redemption
EXPANSION
4. Wagnerianism
5. Beyond the gilded frames

THREE CENTRES
6. Monument or life form - Vienna
7. Ornaments, abstractions and theatre - Munich
8. The cathedral of industrial culture - Werkbund

THE AVANTGARDE
9. Universes of form
10. Bauhaus

EXCURSUS
11. The third Reich and the art of sedation

CLOSURE
12. Art beyond the work of art
Table of contents
Excerpt
Press reviews
Moritz Schramm, Kristeligt Dagblad
"Bogen spænder derfor også dejligt vidt omkring og kan nærmest læses som en 
gennemgang af hele den moderne kunsthistorie, der både omfatter symbolismen, jugendstilen, avantgarden og Bauhaus-traditionen [...]. Et imponerende værk om et af de helt centrale begreber i den europæiske kunsthistorie."
Jacob Holm Krogsøe, lektørudtalelse
"Forfatteren formår også at skrive både akademisk og underholdende, hvilket er en evne som mange akademikere godt kunne lære noget af. Bogen er flot, trykt på lækkert og kraftigt papir og med et fint billedmateriale."
"Omfattende og velskrevet akademisk nedslag i begrebet "Gesamtkunstwerk", og samtidig en grundig historisk gennemgang af 100 års kunsthistorie set ud fra dette perspektiv."
Anders Engberg Pedersen, Weekendavisen
"Det er meget ambitiøst, og det synoptiske blik på kunstarterne resulterer ofte i overraskende og fascinerende sammenhænge på tværs af tilsyneladende helt disparate felter.  Man kan have Munch mistænkt for indtag af præstationsfremmende midler, for det er noget af en tour de force, han har kastet sig ud i. [...] Fra Bayreuth til Bauhaus er en vidtfavnende og på mange måder overdådig bog."
Flemming Ravn, tidsskriftet Epsilon
"Anders V. Munchs mangefacetterede bog rummer en gennemgang af moderne kunsthistorie. Bogen er lang at læse, men også behagelig at læse. Den handler først og fremmest om Gesamtkunstwerk'et. Forfatteren har en fin og dybdegående formidling om dette emne og dets mange aspekter. Begrebet - eller fænomenet -  Gesamtkunstwerk er på grundig vis sat ind i en større idéhistorisk, kulturel og kunstnerisk kontekst."
"Fra Bayreuth til Bauhaus er udgivet i et lækkert format. Den er faktisk Anders V. Munchs doktorafhandling fra humaniora ved Aarhus Universitet. Dette forklarer grundigheden og ildhuen, hvormed emnet er skildret og analyseret uden at være tør eller alt for abstrakt. Den omfattende bog formidler en interessant forståelsesramme og kan anbefales alle, der ønsker at udvide deres kunstsyn eller fordybe sig i moderne kunsthistorie og Tysklands (Europas) kulturelle og idéhistoriske udvikling de sidste 200 år. Bogen er fint illustreret og veldokumenteret og gives den høje bedømmelse: seks stjerner af seks."
Press room
I presserummet kan du finde pressemeddelelser. Du er altid velkommen til at kontakte os her https://unipress.dk/kontakt/, hvis du mangler andet materiale.