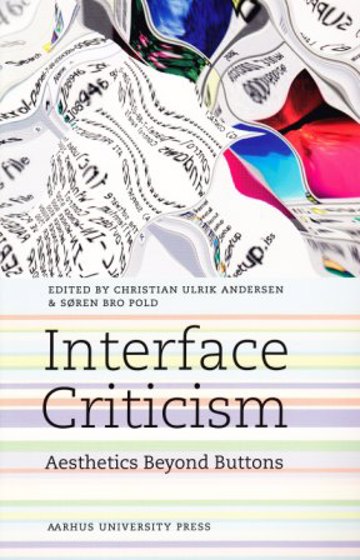 ---
---
Paperback
Published 12. January 2011
ISBN 978 87 7934 504 1
---
Edited by
Christian Ulrik Andersen and Søren Bro Pold
With contributions by
Christian Ulrik Andersen, Dragana Antic, Inke Arns, Morten Breinbjerg, Christophe Bruno, Geoff Cox, Florian Cramer, Matthew Fuller, Lone Koefoed Hansen, Erkki Huhtamo, Jacob Lillemose, Henrik Kaare Nielsen, Søren Bro Pold and Bodil Marie Thomsen
---
More about the book
About the book
From the screen of our laptops, and from the ubiquitous portable devices, smart phones, and media players, to the embedded computation in clothes, architecture and big urban screens, interfaces are everywhere. They are simultaneously demanding our attention and computing quietly in the background, turning action into inter-action, and mediating our experience of and relations to the social and environmental. But how can aesthetics respond to this, and how do interfaces set the scene for artistic practices?
Interface Critisism is not another design manual but a critical investigation for readers interested in the aesthetic, cultural and political dimensions of interfaces. With contributions from leading researchers within the field, the book covers a wide range of aesthetic expressions - including urban screens, wearable interfaces, performances, games, net-art, software art, and sound art, and discusses how new cultures evolve around, for example, open souce or live coding.
The volume critically investigates the aesthetics of interfaces in ways that transcend the iconic surface of the graphical user interface and goes beyond the buttons. Ultimately the book develops interface aesthetics as an appropriate paradigm for a critical discussion of the computer.
Table of contents
BACK: Displays and History
Monumental Attractions: Toward An Archaeology of Public Media Interfaces.
The Haptic Interface: On Signal Transmissions and Events.
THROUGH: Sensation and Perception
The Interface at the Skin.
Interface Perception: The Cybernetic Mentality and Its Critics: Ubermorgen.com.
BEHIND: Representation and Computation
What Is Interface Aesthetics or What Could It Be (Not)?
The Computation of Space.
DOWN: Software and Code
Means-end of Software.
Poesis of Human-Computer Interaction: Music, Materiality and Live Coding.
Writerly Gaming: Political Gaming.
OUT: Culture and Politics
The Net Interface and the Public Sphere.
Is There Really Only One Word For It?
Vocabularies in the Expanded Field of Interface Aesthetics.
Transparent World: Minoritarian Tactics in the Age of Transparency.
Collective Hallucination and Capitalism 2.0: Scale-free Elections in France