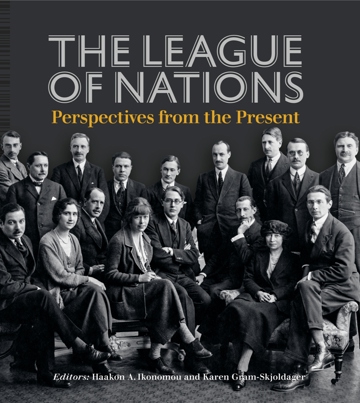 The League of Nations
Perspectives from the Present
A part of the subject area History
---
Thank you for your pre-order. We will let you know when The League of Nations: Perspectives from the Present is available for ordering on 28. June 2019.
---
Hardback
To be published 28. June 2019
ISBN 978 87 7184 620 1
---
Edited by
Haakon A. Ikonomou and Karen Gram-Skjoldager
With an introduction by
Karen Gram-Skjoldager and Haakon A. Ikonomou
With a foreword by
Michael Møller
With contributions by
Torsten Kahlert Karen Gram-Skjoldager, Haakon A. Ikonomou, Marco Moraes, Myriam Piguet, Florian Wagner, Laura Almagor, Mads Drange, Søren Friis, Hagen Schulz-Forberg, Quincy Cloet, Tomoko Akami, Niels Brimnes, Emil Eiby Seidenfaden, Helle Strandgaard Jensen, Nikolai Schulz, Benjamin Auberer, Paul Reef, Marco Ninno and Patrick Finney
---
More about the book
About the book
The League of Nations – Perspectives from the Present is an accessible and richly illustrated edited volume displaying a wide variety of cutting-edge research on the many ways the League of Nations shaped its times, and continues to shape our contemporary world. A series of bite-size studies, divided into three thematic parts, investigates how the League affected the world around it and the lives of the people who became part of this 'first great experiment' in international organisation. Recent research has reinterpreted the League as a laboratory of global economic, political and humanitarian governance. Expanding on this, the volume aims to show that the League is an 'academic site', where international history – as a discipline – has re-invented itself by integrating new approaches from social, cultural and media history. With an introduction by Director-General Michael Møller of the United Nations Organisation in Geneva, this work is a timely reminder of the fragile, varied and enduring history of multilateralism, on the centenary of the signing of the Treaty of Versailles.
"The history of the League of Nations is brief, thrilling and tragic. The first attempt to gather the nations of the world to cooperate peacefully – and the direct forerunner of the United Nations – has a history and legacy that is both complex and of immense importance to our understanding of the contemporary world."
Mogens Lykketoft, Former President of the United Nations General Assembly
"2019 marks the centenary of that iconic and ill-fated international organization, The League of Nations. As we gear up to learn the lessons of the international past in the context of an anti-internationalist present, this volume offers new insights into the indelible, intersecting multilateralist, internationalist, and national ambitions that make up the League's history – without lapsing into the trap of either hagiography or ahistorical cynicism. The product of a vast and imaginative research project on the workings of the League as a bureaucracy, this diverse collection of essays encourages us to understand what its editors conclude are the many ways the first global international organization shaped its times and continues to shape our world."
Glenda Sluga, Professor of International History, and ARC Laureate Fellow, University of Sydney
Press reviews
Stiften.dk
Artikel: "Højrepopulismen og Trump udfordrer vores verdensorden"
10.06.2019
Avisen Danmark
Artikel: "100-året for det første forsøg på at holde sammen på verden. En anskudt verdensorden"
10.06.2019