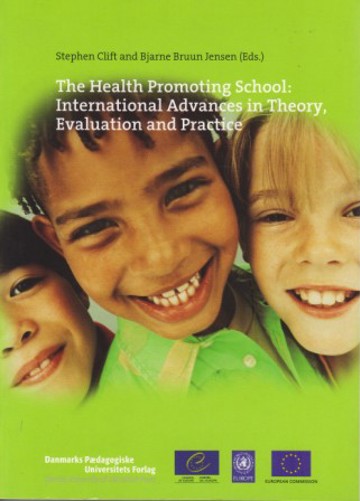 The Health Promoting School
International Advances in Theory, Evalution and Practice
A part of the subject areas and Pedagogics
---
Out of stock
Available e-book formats:
---
Paperback
Published 18. July 2005
ISBN 87 7684 012 3
---
Edited by
Stephen Clift and Bjarne Bruun Jensen
With contributions by
Carmen Aldinger Margaret Barry, Mary Byrne, Stephen Clift, Derek Colquhoun, Kristina Egumenovska, Marco Franze, Olga Goriunova, Bo Haglund, Miluse Havlinova, Maria W.J. Jansen, Bente Jensen, Bjarne Bruun Jensen, Ilze Kalnins, Tiaan G.J. Kirsten, Gry Høngsmark Knudsen, Michal Kolar, Rolf Lander, Kate Lemerle, Mariken T.W. Leurs, Vizma Mikelsone, Ingrid M. Mur-Veeman, John Newell, Saoirse NicGabhainn, Lena Nilsson, Silva Omarova, Peter Paulus, Vivian Barnekow Rasmussen, Ulrike Ravens-Sieberer, Herman P. Schaalma, Venka Simovska, Donald Stewart, Jörgen Svedbom, Christiane Thomas, Per Tillgren, Keith Tones, Kertu Tossavainen, Terence Turner, Hannele Turunen, Harri Vertio, Charles T. Viljoen, Nanne K. De Vries, Tarja Vähäaho, Raili Välimaa, Katherine Weare and Cheryl Vince Whitman
---
More about the book
About the book
This book brings together recent international scholarship on the links between education and health, and recent research evidence evaluating the processes and outcomes of health promoting schools initiatives. The book arises out of the Education and Health in Partnership conference, which took place in Egmond aan Zee, the Netherlands in September 2002. The key aims of the conference were to focus on effective partnership working for health in schools and to consider the evidence base for health promoting schools programmes. A significant outcome of the conference was the Egmond Agenda, which outlines the principal components for success in establishing health promoting schools.Contributors from across Europe, the United States, South Africa and Australia present findings from national health promoting school projects, with a particular emphasis on the promotion of mental health.The volume will be of interest to all education and health professionals interested in the contributions of schools in promoting health, empowerment, action competence and wellbeing of young people.