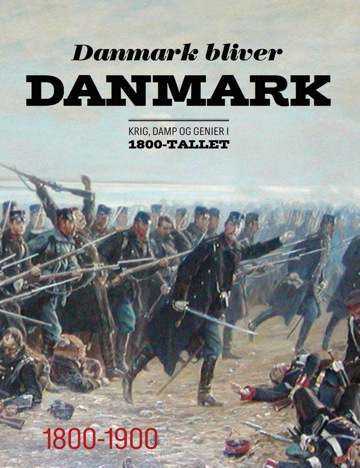 Danmark bliver Danmark
Krig, damp og genier i 1800-tallet
A part of the subject area History
---
Available e-book formats: PDF,
---
Paperback
Published 18. February 2014
ISBN 978 87 7124 307 9
---
With contributions by
Inge Adriansen Aage Olsen Alstrup, Jørn Erslev Andersen, Leif V.S. Balthzersen, Henning Bender, Finn Borchsenius, Niels Brimnes, Peter Brunbech, Hans Buhl, Jørgen Carlsen, Søren Bitsch Christensen, Per Dahl, Kristine Dyrmann, Rasmus Glenthøj, Karina Lykke Grand, Morten Hahn-Pedersen, Gorm Harste, Hans Hauge, Mette Frisk Jensen, Uffe Jonas, Nina Koefoed, Ove Korsgaard, Helge Kragh, Christian Larsen, Pelle Oliver Larsen, Sten Larsen, Svend Erik Larsen, Lis Møller, Jørgen Mührmann-Lund, Gorm Toftegaard Nielsen, Kristian Hvidtfelt Nielsen, Marie Nipper, Bertel Nygaard, Merete Bøge Pedersen, Lise Pennington, Erik Strange Petersen, Jørn Henrik Petersen, Marianne Ninna Phillipsen, , Poul Porskær Poulsen, Karen Klitgaard Povlsen, Dan Ringgaard, Raben Rosenberg, Elsebeth Aasted Schanz, Hans-Jørgen Schanz, Marianne Schleicher, Morten A. Skydsgaard, Anna Karlskov Skyggebjerg, Ulrik Spang-Hanssen, Kenn Tarbensen, Jesper Theilgaard, Laura Søvsø Thomasen, Tobias Wang and Ole Høiris
---
More about the book
Press reviews
Anny Skov Madsen, lektørudtalelse
"… den giver så godt et overblik, at den af alle kan bruges som et inspirerende opslagsværk om hele 1800-tallet. Den er også velegnet til opgaveløsere fra overbygningen i folkeskolen."
"101 korte og perspektivrige artikler om 1800-tallet skrevet af velfunderede forskere givet et spændende overblik og indsigt i de vigtige begivenheder, der lagde grund til det Danmark, vi kender i dag."
Erik Ingemann Sørensen, Historie-online.dk

"det er en ypperlig kavalkade, læseren præsenteres for. Skarpe og fornemt illustrerede opslag giver læseren en oplevelsesrejse gennem det måske mest dramatiske århundrede i vores fælles historie. Bankerot og bønder, jøder og jernbaner, adel og almisselemmer, skole og skandinavisme. Faktisk burde denne fine bog være fast inventar hos enhver historieinteresseret. Fordi den netop giver det overblik, der ofte er delt op i mere specialiserede emner. Alene vandringen i de mange billeder - 169 på 100 sider i sort/hvid og farve - er en fryd i sig selv."