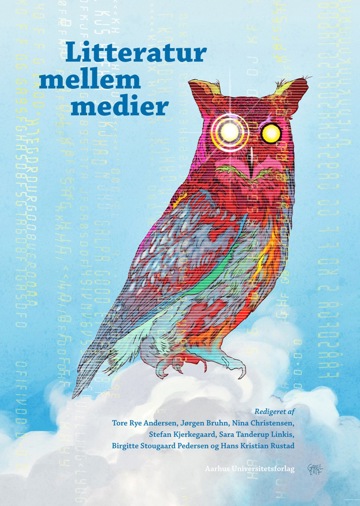 Litteratur mellem medier
A part of the subject area Literature
---
---
Hardback
Published 8. May 2018
ISBN 978 87 7124 856 2
---
Edited by
Tore Rye Andersen, Jørgen Bruhn, Nina Christensen, Stefan Kjerkegaard, Sara Tanderup Linkis, Birgitte Stougaard Pedersen and Hans Kristian Rustad
With contributions by
Tore Rye Andersen, Sara Tanderup Linkis, Stefan Kjerkegaard, Anne Green Munk, Iben Have, Birgitte Stougaard Pedersen, Martin Glaz Serup, Lea Wierød Borčak, Jakob Schweppenhäuser, Hans Kristian Rustad, Thomas Bjørnsten, Ayoe Quist Henkel, Sarah Mygind, Johannes Poulsen, Nina Christensen, Jakob Isak Nielsen, Jørgen Bruhn, Steen Bille Jørgensen and Dan Ringgaard
---
More about the book
Table of contents
Excerpt
Press reviews
Maria Guldager Rasmussen, lektørudtalelse
"En velegnet lærebog til litteraturstuderende og til de læsere, der ønsker at blive klogere på litteraturens nye former."
".. et alsidigt portræt af litteraturen i dag."
"Niveauet er fagligt set højt, men de almindeligt analyseinteresserede vil også kunne læse med."
Anne-Mette Bech Albrechtslund, MedieKultur 2018, 64
".. alle kapitler fremstår grundige og gennemarbejdede og er fint tilpasset hinanden i struktur og fremgangsmåde."
"Det er tydeligt, at bogens forfattere har arbejdet sammen om at udvikle viden og perspektiver om emnet inden for rammerne af det interdisciplinære forskningscenter på Aarhus Universitet, som bogen udspringer af."
"Bogen er generelt meget velskrevet og tilgængelig for den alment litteraturinteresserede akademiske læser."
"Bogen er også velegnet til brug i undervisning i litteratur- og medieanalytiske fag."
Ines Galling, Bookbird

"The collective volume Litteratur mellem medier (Literature between media) explores a broad and in many respects unexplored field whose significance can hardly be underestimated in times of digital change. It adresses questions that are as simple as they are crucial: What exactly is a text? How does the medium influence a text? How are content, form, and materiality related?"
Press room