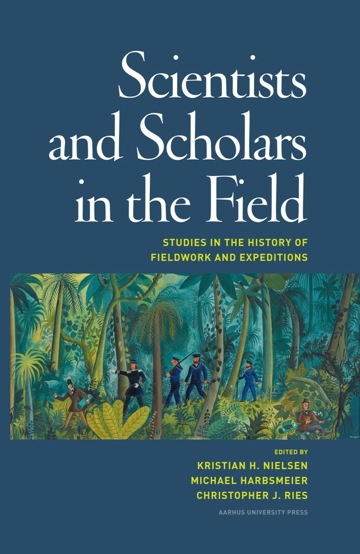 Scientists and Scholars in the Field
Studies in the History of Fieldwork and Expeditions
A part of the subject areas Anthropology and History
---
---
Hardback
Published 19. March 2012
ISBN 978 87 7124 014 6
---
Edited by
Michael Harbsmeier, Kristian Hvidtfelt Nielsen and Christopher J. Ries
With contributions by
Casper Andersen, Jenny Beckmann, Mikkel Bunkenborg, Palle O Christiansen, Daniel E. Clinkman, Matthew Edney, Kasper Risbjerg Eskildsen, Esther Fihl, Anke Fischer-Kattner, Neha Gupta, Michael Harbsmeier, Kristian Hvidtfelt Nielsen, Morten Axel Pedersen, Serge Reubi, Christopher J. Ries, Rengenier Rittersma, Jeppe Strandsbjerg and Jeremy Vetter
---
More about the book
About the book
For centuries the practice of undertaking fieldwork and expeditions has been adopted as an essential part of research by scientists and scholars from diverse disciplines. As a method of collecting on-site data through observation, the practice is shared by disciplines ranging from biology and botany, through geology, geography, and archaeology to anthropology, linguistics, and folklore studies.
Presenting 17 essays by 17 scholars from almost as many disciplines of knowledge, this volume contains a rich tapestry of stories from - and about - 'the field', from early modern times until the present day.
Taking us around the globe, from Europe to Asia, from the Arctic to Africa and America, this book investigates the entanglement of scientific, political, social, cultural, and personal interests and agendas that have shaped, and still shape, our effort to explore, explain, and exploit the world.
Table of contents
Studying Scientists and Scholars in the Field
An Introduction
Fieldwork avant la lettre
Practicing Instructions in the Eighteenth Century
Surveying the Field of State Territory
Subterranean Fieldwork
Marsili's Survey on the Biogeography and Ecobiology of Truffles in Eighteenth Century North and Central Italy
Exploring the Republic of Letters
German Travellers in the Dutch Underground, 1690-1720
The Civil-Military Enlightenment in Britain
Links between the Royal Society of London and the British Military, 1761-1790
Entangled Experiences, Disentangling Disciplines
Antoine and Arnauld d'Abbadie's Voyages in Ethiopia
Explorer-Engineers Take the Field
Imperial Engineers, Africa, and the Late Victorian Public
From Collection to Fieldwork
The Field Research of Danish Folkloris Evald Tang Kristensen, 1870-1890
Field Life in the American West
Surveys, Networks, Stations, and Quarries
Before Creation
Competing Excavators, Imperial Interests, and the Making of the Indus Civilization in the 1920s India
The Rolling Field Station
Danish Explorations of Central Asia in the Late Nineteenth Century
Exploring the Disciplinary Significance of Fieldwork Methods
A Case from the History of Swiss Anthropology
Armchairs, Dogsleds, Ships, and Airplanes
Fiels Access, Scientific Credibility, and Geological Mapping in Northern and North-Eastern Greenland 1900-1939
Expedition "Live"
Science, Media, and Politics on the Galathea 3 Expedition 2006-2007
Press reviews
Jean-Baptiste Gouyon, The British Journal for the History of Science (Cambridge University Press)
"As a kind of scholarly expedition through time and space, it encourages movement through multiple perspectives on, and approaches to, the history of the practices of science in the field. And the reader, helped by these diverse cartographies of discrete scholarly territories, gets a better sense of the size and qualities of the very big object that fieldwork is."
Press room
I presserummet kan du finde pressemeddelelser og forsidebilleder. Du er altid velkommen til at kontakte os her https://unipress.dk/kontakt/, hvis du mangler andet materiale.